[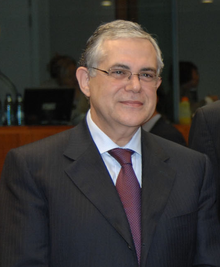 "The euro area financial system is robust and well-capable of withstanding shocks...balance sheets of...banks...have continued to strengthen" [Lucas Papademos,
ECB Financial Stability Review
June 2006]
Papademos has an interesting CV, one that is lovingly
glossed over by the BBC
:
BBC: "As head of the Bank of Greece, he oversaw his country's move from the drachma to the euro in 2002."
Alternative: "Papademos was
head of Greece's Central Bank
when Goldman Sachs
was helping
'the Greek government to mask the true extent of its deficit with the help of a derivatives deal that legally circumvented the EU Maastricht deficit rules'."
BBC: "More recently, as an adviser to outgoing Prime Minister George Papandreou, he took part in the negotiations between Athens and the "troika" of international creditors (the IMF, the European Commission and the European Central Bank) bailing out the Greek government."
Alternative: "Papademos served as ECB Vice President, before taking advisory roles, firstly with the IMF as part of it's "
Regional Advisory Group: Europe
" and
then
with former Greek Prime Minister George Papandreou. Writing in the
Financial Times
recently, Papademos said 'Forcing Greek restructuring is not the answer'."
BBC: "After a stint at Columbia University in New York, Mr Papademos returned to Greece where he joined the central bank as its chief economist in 1985."
Alternative: "Papademos served as Senior Economist at the
Federal Reserve Bank of Boston
in 1980."
Wonder whether this "fiscal conservative" will have the Greek people at heart or his illustrious former employers.