For the past few days, astronomers around the world have been monitoring a dark filament of magnetism sprawled more than 1,000,000 kilometers across the face of the sun. Make that 750,000 km. On Nov. 14th the filament snapped and flung a fraction of itself into space. NASA's Solar Dynamics Observatory recorded the action: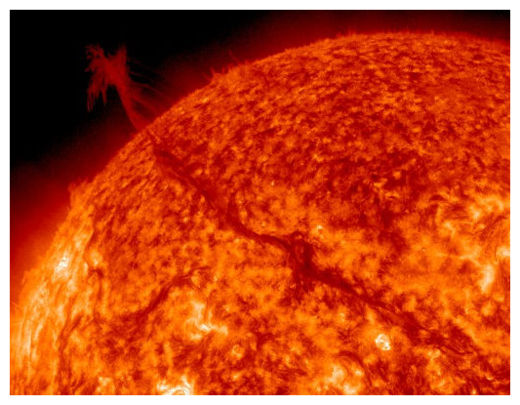 Click here to watch a 3Mb movie.
The eruption hurled a cloud of plasma into space, but not toward Earth. The only effect on our planet would be to disappoint observers hoping for a longer filament.
Meanwhile, a wall of plasma towering over the sun's SE limb is
seething with activity
and may be poised to erupt as well. Readers with solar telescopes are encouraged to monitor developments.
More Images:
From
Sylvain Weiller
of Saint Rémy lès Chevreuse, France; from
John Stetson
of Falmouth, Maine; from
Chris Hetlage
of Deerlick Astronomy Village, Georgia; from
David Cortner
of Rutherford College, North Carolina; from
Jo Dahlmans
of Ulestraten The Netherlands; from
Francisco A. Rodriguez
of the Canary Islands; from
Ron Cottrell
of Oro Valley, Arizona; from
Gianfranco Meregalli
of Milano Italy; from
Roel Weijenberg
of Wilp, Gelderland, Netherlands; from
Andy Burns
of Chippenham, Wiltshire, UK.