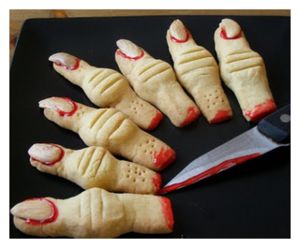 A small businessman in Wenzhou, China couldn't pay back a debt -- so he offered to hand over what he could.
"If you like, you can cut off one of my fingers instead," 42 year-old pharmacy owner Zhong Maojin told the loan sharks whose bill had come due.
According to Bloomberg,
Zhong is in hock to 130 lenders for 30 million yuan ($4.7 million) at interest rates reaching 7% a month. However, his "offer of traditional retribution ... was declined" after another creditor insisted on his release so Zhong could pay off an even larger debt owed to them.
Though Mastercard, Visa, and American Express don't consider human flesh to be legal tender, the Zhong case is hardly the first time fingers have been used to settle financial scores.
In March, an Albuquerque, N.M., woman named Samantha Hernandez was dropped off in a Walmart parking lot, after being kidnapped and
relieved of her pinky over an $80 debt.
In 2009, a Portuguese man "
cut off his index finger,
using a court desk as a chopping board" before slicing the detached finger into three pieces, when a judge ordered him to sell part of his farm to pay off a 170,000 euro debt.
"I didn't feel anything," Orico Silva said. "I could even have cut off all my fingers. It was an act of despair."
Then, there was the 26 year-old Briton, James Ross, who
also lost several body parts
while in Portugal.
£10,000 in debt to a drug gang, Ross was relieved of two fingers, three toes, and an ear during a "horrific" ordeal in the town of Alfontes.
Oh, and they also broke both his legs, for good measure -- though Ross still managed to escape.
As for Wenzhou? One Hong Kong-based economist, who estimates that outstanding private loans make up 8% of total lending in China, tells Bloomberg that the trouble the city is seeing is actually "a much bigger problem across the country."
Says Wang Tao
of UBS: "Wenzhou is just the tip of the iceberg."