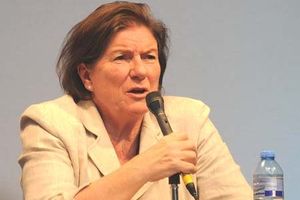 Former British Member of Parliament (MP) Baroness Jenny Tonge has said that the Israelis must give back Palestinian people's land in order to solve the Palestinian issue, Press TV reports.
"They (the Israelis) really must solve this huge problem that they have made for themselves, entirely their fault, they have made this problem and they have got to solve it by giving the Palestinians their land back and creating a secure and prosperous day to Palestine," Tonge said on Press TV's program
Remember Palestine
.
Baroness Tonge said people are furious about the plight of the Palestinians and it is a problem that we have to solve for the future of our children and grandchildren.
Commenting on a recent prisoner swap deal between Hamas and Israel, she called the deal a wonderful success for the Palestinian resistance movement.
On October 18, 477 Palestinian prisoners were released from Israeli jails as the first part of a deal to release 1,027 Palestinian inmates in exchange for Hamas-captured Israeli soldier Gilad Shalit.
She said the release of prisoners made her quite emotional to think about the joy in all those hundreds of families being reunited.
Tonge, who was sacked on January 23, 2004 from the Liberal Democrat frontbench by the party over her pro-Palestinian remarks, termed the Palestinian Authority's statehood bid at the United Nations "a brilliant move, brilliant publicity for Palestine, a great thing to do."
Addressing the Palestinian Solidarity Campaign rally in London in January 2004, she said, the daily "killings and the bulldozing and all the other horrible things" by Israeli forces in the occupied territories made her understand why some people become bombers.