Cain faces heightened scrutiny of '9-9-9' economic plan
Washington - A long-awaited showdown between former Massachusetts Gov. Mitt Romney and Texas Gov. Rick Perry erupted at Tuesday night's Republican presidential debate, in an occasionally personal battle between the two GOP heavyweights.
Romney and Perry sparred throughout the two-hour CNN/Western Republican Leadership Conference debate in Las Vegas, mostly overshadowing an early pile-on of Herman Cain and his "9-9-9" economic plan.
Perry called Romney a hypocrite
, while the former Massachusetts governor retorted that the Texan was suffering from some recent rough debate outings. The body language of both turned visibly cool as they
talked past one another at points
.
The fireworks emerged halfway through the first hour of the debate, when Perry accused Romney of having hired illegal immigrants as landscapers at one of his homes. Perry has been looking to reverse a slide in the polls driven in part by poor debate performances.
"The idea that you stand here before us and talk about you're strong on illegal immigration is on its face
the height of hypocrisy
," a more animated Perry said.
Romney denied ever having hired an illegal immigrant and heatedly insisted he have a chance to talk when the two bickered during Romney's response.
"This has been a tough couple of debates for Rick and I understand that, so you're going to get testy," Romney said, later adding: "You have a problem with allowing someone to finish speaking."
The jousting continued
all the way to the debate's finish, when Perry challenged Romney's credentials on jobs - the former Massachusetts governor's s point of emphasis in this campaign.
"If you want to know how someone's going to act in the future, look how they acted in the past," Perry said.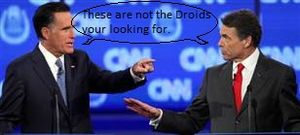 "Mitt, while you were the governor of Massachusetts ... you were 47th in the nation in job creation," Perry said in a challenge to Romney's economic credentials. "What we need is somebody who can draw a bright line between themselves and President Obama, and let me tell you one thing: I will draw that bright contrast."
Romney responded by dredging up Perry's work as a young Texas politician in support of Al Gore's 1988 presidential campaign.
"With regard to track record and the past, governor, you were the chairman of Al Gore's campaign. And there was a fellow Texan named George Bush running," Romney said. "So if we're looking at the past, I think we know where you were."
(The non-partisan Politifact determined that Perry was not Gore's campaign chairman, but rather, simply a single supporter.)
The showdown between Romney and Perry was, in some respects, the one that political observers had hoped for since Perry entered the race in mid-August. The Texas governor overtook Romney, the campaign's putative frontrunner, in the polls, but has seen his numbers decline since then.
Perry now finds himself in third place, according to the latest polling. Last week's NBC News/
Wall Street Journal
poll showed Cain leading the field, at 27 percent, and Romney in second place, at 23 percent. Cain's surge came at the expense of Perry; his supporters were most especially conservative Republicans and members of the Tea Party.
And Cain, who, along with his 9-9-9 plan has enjoyed a weeklong renaissance since dominating last Tuesday's New Hampshire forum, found out just how tough life can be in the frontrunner's spotlight. Cain called attacks on his plan - which calls for 9 percent federal taxes on personal income, corporate income and sales - of "mixing apples and oranges" for suggesting that
taxpayers would have to double up on state and federal sales taxes
.
"I'm going to be getting a big bushel basket that has apples and oranges in it, because I'm going to be paying both taxes. And the people of Nevada don't want to pay both taxes," Romney said in one of the debate's early applause lines.
The other candidates took turns hammering the plan, too; Minnesota Rep. Michele Bachmann suggested the plan, through its sales
tax, would open up a new revenue stream for lawmakers to abuse
, while former Sen. Rick Santorum suggested it would unfairly hurt families and the poor.
But the marquee matchup was between Romney and Perry, the two leaders in fundraising as of the end of September, and the pair of candidates viewed by most GOP insiders as having a realistic chance of winning the nomination.
Perry and the other Republican challengers sought to also finally knock Romney off his game after six previous debate appearances in which the former Massachusetts governor was able to largely coast. Romney has steadily fended off challenges to his record in six prior debate performances and has been able to keep his focus mostly on Obama.
Perry's debate appearances, by comparison, had been criticized as lethargic and marble-mouthed, stirring worries among Republicans that Perry could[n't] beat President Obama in 2012, let alone Romney.
He appeared reanimated early in the debate, particularly in waging a direct challenge to Cain, asking to put Cain's plan head-to-head against Perry's own forthcoming tax plan.
"Herman, I love you, brother, but I'll tell you something: You don't have to have a big analysis to figure this thing out. Go to New Hampshire where they don't have a sales tax, and you're fixing to give them one," Perry said. "They're not interested in 9-9-9. What they're interested in is flatter and fairer. At the end of the week, I'm going to be laying out and - I'll bump plans with you, brother, and we'll see who has the best idea about how you get this country working again."
But at another point, the stumbles that plagued Perry at earlier debates seemed to re-emerge, particularly when he faced a line of questions about the comments made by a pastor speaking in support of him, who disparaged Romney's Mormon religion as a "cult."
"I have said I didn't agree with that individual's statement," Perry said. "We also are a country that [sic] are free to express our opinion. That individual expressed an opinion. I didn't agree with it, Mitt, and I said so."
Romney shrugged off the initial comment about his faith saying that he had "heard worse," but in turn challenged Perry to more fully disavow Dr. Robert Jeffress, the pastor who introduced Perry earlier this month at a Values Voters Summit in Washington, D.C.
"The founders of this country went to great length ... to make sure we would not choose people to represent us in government based upon their religion," Romney said. "That's bedrock principle. And it was that principle that I wanted you to say, governor, 'No, no, that's wrong, Rev. Jeffress,' instead of saying as you did, the introduction 'knocked the ball out of the park.'"
Perry seemed to have heeded the lessons of other candidates who have performed poorly in the debate. Former Minnesota Gov. Tim Pawlenty, now a supporter of Romney's, learned that lesson the hard way: After having coined the term "ObamneyCare" to link Romney and Obama's health care plans, Pawlenty hesitated to invoke that phrase again during a debate in June.
The Republican candidates also honed their rhetoric on the economy, the top issue in the election, before a local audience suffering from one of the worst real estate markets in the country. Moreover, Nevada plays host to the third contest of the nominating process early next year, and the GOP hopefuls' words could shape the contours of that battle.
Romney has been especially attentive to Nevada's suffering economy, having toured a heavily foreclosed neighborhood in suburban Las Vegas shortly before making his bid for the nomination official.
It was Bachmann, though, who made the most direct plea toward the hard-hit local economy.
"I just want to say one thing to moms all across America tonight, This is a real issue; it's got to be solved," she said. "President Obama has failed you on this issue of housing and foreclosures. I will not fail you on this issue ... Hold on moms out there, it's not too late."
Democrats targeted Romney earlier in the day for comments he made to the
Las Vegas Review
-Journal in which he suggested
it would be better to let banks foreclose on homes than to pursue policies that artificially boost homeownership
.
Romney doubled down on that sentiment, though, at the debate.
"The idea of the federal government running around and saying we're going to give you some money for trading in your old car, or we're going to give you a few thousand bucks for buying a new house, or we're going to keep banks from foreclosing if you can't make your payments - these kinds of actions on the part of government haven't worked," Romney said. "The right course is to let markets work."
Tuesday's debate in Nevada was also significant for its political backdrop: a threatened boycott by some of the candidates of Nevada's Jan. 14 caucuses. Former Utah Gov. Jon Huntsman led the charge in pledging to boycott those caucuses unless the date is moved back; Huntsman, joined by Cain, Bachmann, Santorum and former House Speaker Newt Gingrich, have all vowed to skip Nevada, saying that it would unfairly sandwich New Hampshire's primary between Iowa's Jan. 3 caucuses and the Nevada contest.
Huntsman skipped tonight's debate as part of his protest. He held a town hall meeting in New Hampshire instead.