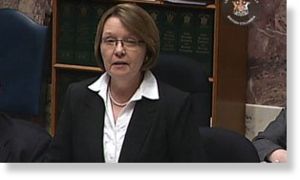 B.C. Solicitor General Shirley Bond says she's been given an ultimatum by the federal government.
In a written statement, Bond said negotiations on a new RCMP contract are "stalled and stonewalled on the federal side of the table."
She said Ottawa has threatened to withdraw service if a new contract is not reached by November. The current contract expires next year.
"We have found it difficult to get meaningful federal engagement on key issues and because of their stalling, we are seeking to extend the current RCMP contracts to allow more time for negotiations," Bond said.
B.C. has worked hard for four years toward a new agreement, Bond said, and she's not going to give up.
"I am committed to making a deal that reflects a true partnership, strengthens accountability and contains costs in specific ways - matters the federal side has been ignoring in the interest of giving us an ultimatum," she said.
"That ultimatum is an unfortunate development for local governments who've been consistently concerned about containing their escalating RCMP costs.... We are seeking a more integrated effort among all partners, and better information-sharing to help strengthen accountability and cost control."
Bond said she still firmly believes in the benefit of having a national police force like the RCMP, but is "starting to wonder whether the federal government still wants to be in contract policing."
She closed the statement by urging federal negotiators to return to the bargaining table.
The RCMP polices all rural areas of the province and all municipalities except for 13 cities where local police forces have jurisdiction.