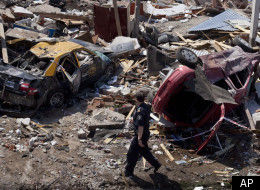 A woman died and eight people were injured in an overnight house explosion in Monte Grande, Buenos Aires province. According to police sources the cause of the violent explosion remains unknown. The blast occurred around 2 am at Los Andes and Vernet streets.
The wounded were taken Santamarina hospital. Seven people are being treated, one person has been cleared. The deceased woman was identified as 43-years-old Silvina Espinoza.
Neighbors' accounts describe a ball of fire coming from the sky as the cause of the explosion.
The chief of the firefighters, Guillermo Pérez, however, said the "causes remain unknown" and that "gas containers were found intact," ruling out a gas related incident.
The blast caused destruction in several structures and cars surrounding the house.
.