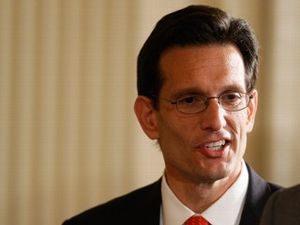 Yesterday, President Obama requested $5.1 billion to provide disaster relief to communities struggling to recover from recent hurricanes, floods, earthquakes and wildfires. The request includes
$500 million in emergency funds
FEMA needs to continue to operate effectively through the end of September.
House Majority Leader Eric Cantor, whose home state of Virginia was hit by an earthquake and Hurricane Irene, is demanding more partisan spending cuts in exchange for approving the request. From
Politico
:
But a spokesperson for House Majority Leader Eric Cantor (R-Va.) signaled late Friday that the GOP is likely to insist on offsets for the $500 million in emergency funds Obama requested for 2011...

"The House has passed $1 billion in disaster relief funds that is fully offset, which we will look to move as quickly as possible."
The funds referenced by Cantor's spokesperson are contained in the House Department of Homeland Security Appropriations bill, which is adamantly opposed by Senate Democrats. Why? The "offsets" contained in the bill are actually massive cuts to first responders. Sen. Mary Landrieu (D-LA)
explains
:
The House bill slashes funding for grants to equip and train first responders by 40 percent. This is on top of the 19 percent cut in FY 2011. The House defense appropriations bill provides $12.8 billion to train and equip troops and police in Afghanistan - yet the House provides only $2 billion for first responders here at home.

Their proposal also slashes the Federal Emergency Management Agency's operations by 6 percent at a time when the agency has never been busier. Does it really make sense to pay for response and reconstruction costs from past disasters by reducing our capacity to prepare for future disasters?
In December,
Cantor opposed a bipartisan bill
"to improve health services and provide financial compensation for 9/11 first responders who were exposed to dangerous toxins and are now sick as a result." Now, on the eve of the 10th anniversary of 9/11, Cantor is pushing for further cuts to first responders in exchange for disaster relief.
Cantor and his staff continue to
insist
"There will be no delay in meeting the president's request and providing people the aid they need." But they have yet to support any such request absent more partisan spending cuts.