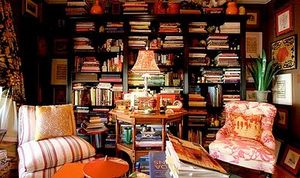 Oceanside, California: Police say a Southland woman suspected of stealing thousands of public library books and DVDs was likely going to hold a book sale of her own.
KNX 1070′s Tom Reopelle reports the investigation began when staff at a Carlsbad library noticed a significant loss of books between March and July coupled with suspicious activity by a frequent patron.
Authorities searched the Vista home of Maria Natar, 44, and found an estimated 2,000 books from Carlsbad and San Diego County libraries - most of which were about cooking, crafts, and animals.
"They were just everywhere, on shelves, in bins, stacks on the floor, just pretty much everywhere," said police spokeswoman Jodee Sasway.
The arrest came after Natar made a recent stop at the library to pick up some books.
"When she exited the library, the sensors went off, alerting the library people that not all the books were checked out," said Sasway.
Investigators believe Natar planned on eventually selling the items for cash. Police estimate the value of the missing books to be at least $5,000 or more.
She was booked into the Vista jail on stolen property charges.