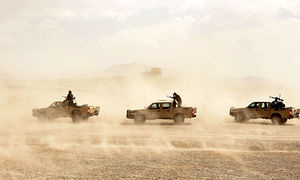 Commanders say Omaid Khpalwak was 'mistakenly' shot dead as suicide bombers attacked a police station
Nato has admitted accidentally shooting dead a BBC journalist in Afghanistan during a battle against insurgents after mistaking him for a suicide bomber.
Military officials met close relatives of Omaid Khpalwak on Thursday and apologised for their "mistake" during an operation against a squad of insurgents, who had attacked a police command post.
Khpalwak, who was hiding in fear during the attack and spoke good English, was
shot 11 times
. His brother Jawid, who always maintained that his brother was killed by Nato forces, said his family remained angry at Nato's actions on the day.
"They thought he was a suicide bomber, but how?" Jawid asked. "He spoke English and would have been showing his press card."
The Nato-led International Security Assistance Force issued a statement on Thursday expressing its condolences for the killing but said its forces on the day complied with the laws of armed conflict and had acted reasonably.
It released a two-page summary of its investigation into the incident on 28 July that said US forces were responding to an attack by insurgents on a police command post. After killing all the insurgents, US forces entered the building of the RTA compound where the iattack had started when two more suicide vests exploded. Gunfire was heard from the area.
The summary says a US soldier on overwatch later noticed a male in the same area of the explosions and gunfire, and fired at him but missed. Another soldier was directed to clear the area and came across "a young male with a beard with something clinched in one of his fists and reaching for something on his person".
The soldier assumed he was a suicide bomber and was trying to detonate his device and shot him dead, the report says, adding the gunfire from the area appeared to have been fired by other US soldiers.
The summary concludes: "Ahmad Omid (sic) Khpalwak was killed in a case of mistaken identity. He was shot by US forces who believed he was an insurgent that fired on them with a weapon and was subsequently taking action to detonate a suicide vest IED."
While hiding in fear during the attack Omaid Khpalwak had texted his brother: "I am hiding. Death has come." Then, soon after, "Pray for me if I die".
He had worked for the BBC as its stringer in the southern province of Uruzgan, as well as an Afghan online news service.
His brother said he was still receiving threats after speaking out against the foreign military.
"People are threatening me and my family. All 10 of us are very scared of staying in Uruzgan because of this," said Jawid.
Omaid Khpalwak, 25, who was married with a young daughter, had forged a reputation as a brave and dedicated reporter. His work, however, had made him powerful enemies in the province, including the warlord Matiullah Khan, who has since been promoted to the provincial police chief.
Earlier this year he had completed a hostile-environment training course and his instructor said he had advised the journalist, if confronted by foreign military, to put his hands over his head and speak English.