Bastrop - More than 1,000 homes have been destroyed in at least 57 wildfires across rain-starved Texas, most of them in one devastating blaze near Austin that is being blamed for two deaths, officials said Tuesday.
Bastrop County Sheriff Terry Pickering said Tuesday he had no details about the deaths. On Sunday, a 20-year-old woman and her 18-month-old daughter were killed Sunday in an East Texas blaze.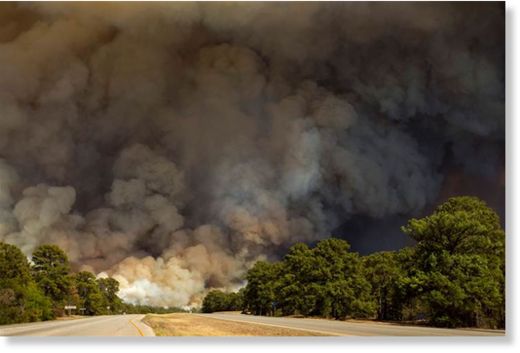 Gov. Rick Perry, who cut short a presidential campaign trip to South Carolina on Monday to return to help oversee firefighting efforts in Texas, told NBC's
Today
that the fires were "a long way" from being under control and described the effect on people who had lost their homes as "devastating."
Texas Forest Service spokeswoman Victoria Koenig said it is too early to say how much progress was made fighting the wildfire in Bastrop County overnight, but that there were no winds early Tuesday. The fire enveloped at least 25,000 acres Monday.
"It's encouraging we don't have winds right now, not like yesterday," Koenig said early Tuesday morning.
Even with the encouraging conditions, Koenig said it was a "tough, tough fire" that was raging through rugged terrain, including a ridge of hills.
"You can still see the hills glowing quite a bit," she said.
At least 5,000 people were forced from their homes in Bastrop County about 25 miles east of Austin, the state capital, and about 400 were in emergency shelters, officials said Monday. School and school-related activities were canceled Tuesday.
And NBC-affiliate station KPRC reported Tuesday that about 8,000 people had been evacuated from their homes in the Magnolia area in Montgomery County, citing fire officials. At least 80 homes and one fire truck have burned, officials said.
Tina Dulaney packed up her car, grabbed her dogs and went to the shelter at Magnolia High School, the station reported.
"Pretty scared," she told KPRC. "You just don't know. The wind's not helping. I just have to wait and see."
Evacuation orders were also in effect in Grimes and Waller counties. "What can you do? Especially with something like that that just pops up so quick and wipes out everything. At least for a hurricane or something like that, you can prepare for it. You can't prepare for a fire. There's no way," evacuee Leslie Dedeke told KHOU.
Perry told
Today
that more than 50 large fires were burning across the state Tuesday, up from "somewhere in the 30s" the previous day. This number included only those blazes being dealt with by federal and state authorities, not "numerous" smaller fires handled by local fire departments, he added.
"For those families who have lost everything they had, homes, possessions etc, it has been devastating for them," he added. "We're getting our people out of the way of these fires. And that's the most important thing. Obviously we'll be dealing with the tragedy here for some time to come."
He said some fires were "becoming really substantial."
"We're a long way from having these under control," Perry told
Today
.
He urged residents to follow evacuation orders and not put their lives in danger for the sake of their possessions. "I know leaving a home and possessions behind is a hard thing to do, but don't put lives in danger," he said.
Perry returned to Texas, cutting short a visit to South Carolina where he was campaigning for the Republican nomination for president.
He assured TODAY's Matt Lauer that he was able to deal with the fires while also running for president.
"Unfortunately in Texas, we have substantial natural disasters, whether its hurricanes, wildfires, floods, you name it, tornadoes, we've had to deal with them," Perry said.
Perry declined to say whether he would take part in a Republican presidential debate on Wednesday to stay in Texas.
"We'll deal with that when it comes up," he said. "I'm substantially more concerned about making sure Texans are being taken care of."
But his campaign spokesman, Mark Miner, said in an email later Tuesday that "the governor plans on being at the debate."
Perry, a Tea Party favorite who has made a political career of railing against government spending, said he expects federal assistance with the wildfires. He also expressed frustration that equipment at Fort Hood, including bulldozers and equipment that can cut deep fissures in the earth, are not already in use.
"Whenever you've got people hurting, when you've got lives that are in danger, in particular, I really don't care who the asset belongs to," Perry said. "If it's sitting in some yard somewhere and not helping become part of the solution, that's a problem."
The Texas Forest Service says nearly 600 of the torched homes were in Bastrop County, some 25 miles from Austin. The agency said that blaze, which has scorched some 30,000 acres, was still uncontained Tuesday. It was the most destructive fire of the year for a state that has had more than 3 million acres burned, said state emergency management chief Nim Kidd.
Some residents said they were surprised by how quickly the blaze engulfed their neighborhoods.
"We were watching TV and my brother-in-law said to come and see this," Dave Wilhelm, 38, who lives just east of Bastrop said. "All I saw was a fireball and some smoke. All of a sudden: Boom! We looked up and left."
Wilhelm returned Tuesday to find his neighbor's house and three vehicles gone, some of his own children's backyard toys destroyed but their house spared.
"Some stuff is smoldering on the lot behind us. Inside of the house, we smell like a campfire. We're definitely very lucky."
Fanned in part by howling winds from the remnants of Tropical Storm Lee, the Bastrop blaze rapidly grew Monday, racing through rain-starved farm and ranchland.
Winds in the area gusted up to 30 mph on Monday, but dropped overnight to around 5 mph and were only expected to get up to 10 mph by afternoon, said National Weather Service forecaster Orlando Bermudez.
Drought Conditions
In Bastrop, a town of about 6,000 people along the Colorado River, huge clouds of smoke soared into the sky and hung over downtown Monday.
When winds picked up, flames flared over the tops of trees. Helicopters and planes loaded with water flew overhead, and firefighters along a state highway outside the city converged around homes catching fire.
"Waiting is the most frustrating thing," said Gina Thurman, 47, choking back tears as she sat by herself in the shade on a curb outside Ascension Catholic Church, one of several shelters in the area. "You're sitting there and you don't know anything but your house is probably burning."
Rick Blakely was among about 30 people sleeping on cots at the church. The 54-year-old said he was in a state of shock and "not expecting anything to be standing" when he returned to his home.
Strong winds coupled with drought conditions allowed the fire to travel quickly over somewhat hilly terrain, burning through pine and cedar trees and wiping out subdivisions as well as ranchland. Dry conditions were expected to persist at least through the week, according to the National Weather Service.
The fire was far enough away from Austin that the city was not threatened, but it consumed land along a line that stretched for about 16 miles, Texas Forest Service officials said.
The wildfire destroyed at least 476 homes, and about 250 firefighters were working around the clock using bulldozers and water trucks against the fire, Bastrop County Judge Ronnie McDonald said.
There were no immediate reports of injuries, and officials said they knew of no residents trapped in their homes.
But the blaze was "nowhere near controlled" on Monday and a separate, smaller blaze south of the city was growing larger, said Mike Fischer, the county's emergency management director. It's unclear how the fire began.
Crews have responded to nearly 21,000 wildfires in Texas since the traditional fire season began early in the year. Outdoor burning, including campfires, is prohibited in all but three of the state's 254 counties.
"I just don't know what I'm going to do," he said.