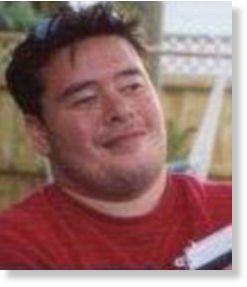 A woman sat next to her boyfriend's body for nine hours after he choked to death on an in-flight meal.
Vanessa Preechakul and Robert Rippingale were on an 11-hour flight from Singapore to Auckland when tragedy struck.
Mr Rippingale, 31, was taking Miss Preechakul, a 27-year-old architect, to meet his parents and explore his native New Zealand.
An hour and a half into the flight with Jetstar, a low budget subsidiary of Qantas, the crew began serving dinner. Mr Rippingale chose a beef dish and was eating it while watching an in-flight movie.
Miss Preechakul said she noticed him shaking, but did not realise anything was wrong. 'I thought he was laughing very hard,' she said. 'Then I looked at his face and his eyes were rolling and he couldn't talk. His lips were turning purple.'
A doctor and two nurses among the passengers went to help after hearing Miss Preechakul's screams. Mr Rippingale, who had been living and working in Singapore for three years, was carried to the galley where the medical team performed CPR, but were unable to save him.
His body was then moved to the crew rest area, where it was covered with a blanket. Miss Preechakul did not want to leave him and was given permission to sit with him for the remaining nine hours of the flight.
Last night she said: 'One minute we were sitting next to each other kissing, holding hands and the next minute he was choking.
'I'm struggling to come to terms with his death. He was so outgoing and generous.'
Miss Preechakukl told the
New Zealand Herald
that she and Mr Rippingale had met in Singapore, where he had lived and worked for three years.
He was taking her to New Zealand so she could discover the country and share in his parents' 50th birthdays.
'He was so excited about the trip that we arrived at the airport six hours early for the 8pm flight,' she said.
Mr Andrew McGinnes, a spokesman for Jetstar, expressed his condolences to the family and thanked the doctor and nurses who had tried to save Mr Rippingale.
'This was a very difficult and sad event and our sympathies are with the passenger's family,' he said.
The cause of death, he said, will not be known until a coroner's report has been released later this month.