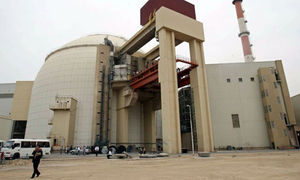 Long-delayed Bushehr plant joins national grid, according to state TV
Iran's first nuclear power plant has started adding electricity to the national grid after years of delays, according to the state news agency.
"The Bushehr nuclear power plant joined the national grid on Saturday at 11.29pm (6.59pm GMT) with the power of around 60 megawatts (MW)," the Isna news agency said.
Hamid-Khadem Qaemi, a spokesman for the country's Atomic Energy Organisation, told Iran's Arabic TV station al-Alam that the plant would be officially inaugurated by 12 September, by which time it would be operating at 40% capacity. The agency was not immediately available to comment.
The $1bn (£616m), 1,000MW plant on the Gulf coast is the first of what Iran hopes will become a network of nuclear facilities that will reduce its reliance on its abundant fossil fuels.
Started by Germany's Siemens in the 1970s before Iran's Islamic revolution, the project was later taken over by Russian engineers and has since suffered a series of delays.
The west fears Iran's nuclear programme is aimed at making atomic weapons, which Tehran denies.
Experts say firing up the Bushehr plant will not bring Iran any closer to building a nuclear bomb because Russia will supply the enriched uranium for the reactor and take away spent fuel that could be used to make weapons-grade plutonium.
Source: Reuters