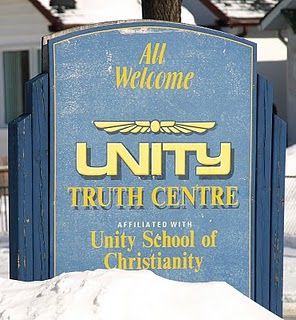 "Winnipeg: A busy church food bank, known for offering warm drinks and snacks to its regulars, has announced it's closing because it is attracting too many poor people.
"'It's attracting a lot of street people that make it uncomfortable,' said Charlotte Prossen, Unity Truth Centre minister Thursday, 'It's creating social unrest in the church'
"'A food bank is a social service and that is not who we are'
"Ms. Prossen said the program is being cancelled to focus on more church-specific activities. The church's board of trustees made the decision to cancel the bimonthly food bank after receiving an e-mail from a sister church in Victoria.
"'Most clients of food banks have not yet come to a sense of personal responsibility in life. They are still in denial, blame or seeing the world as owing them,' wrote Rev. David Durksen of the Unity Church of Victoria.
"Ms. Prossen praised the work done by food banks, and said the church will still collect food for baskets but focus more on people's spiritual hunger."
Now, if your jaw drops at this news item, consider this statement of their beliefs from their website:
What do we Believe

?

Unity is positive, practical Christianity, teaching effective daily application of the principles of truth taught and exemplified by Jesus Christ.

Unity promotes a way of life that leads to health, prosperity, happiness and peace of mind.

All people are created with sacred worth, and Unity strives to reach out to all who seek support and spiritual growth.

Unity teaches that the Spirit of God lived in Jesus, just as it lives in every person

Not the religion about Jesus Christ - but the religion OF Jesus Christ.

Now I don't know about you, but I think that whatever Jesus died for it was not to expressly found a religion. And I always thought that if Jesus Christ had a religion, it was Judaism.
I am appalled. These people seem to think that religion is all about spirituality alone. Perhaps they recall that the Pharisees and Sadducees weren't too happy about the people with whom Jesus associated. They were the street people of their time: prostitutes, tax collectors, lepers. Perhaps they don't remember the parable of the wedding banquet: when those originally invited didn't turn up, the bridegroom went out and gathered up all those on the streets to participate in the feast. Perhaps they think that the feeding of the five thousand was the feeding of five thousand Pharisees, or five thousand merchants.
When I was volunteering for the Holy Apostles Soup Kitchen in Manhattan's Chelsea neighbourhood, I associated with street people of every kind. Some were not too presentable physically and could have used a bit of a cleanup. Some were the detritus of society: prostitutes, the unemployed and unemployable, transvestites and transexuals who lived rough because no one would house them. When I worked in the counselling office I saw 5 guests a day, and I didn't throw them out if they weren't my kind of person. As a Christian
every
person is my kind of person. And they required not only spiritual food but also physical nourishment that their life circumstances couldn't always provide for them. And we provided it for them. Not to say that I got any time off from Purgatory for this, or that anyone else did, for that matter. That's not why this particular Christian church provided food for hungry people. It's because that is exactly what Jesus expects of us.
My thanks (I think) to Criggo for pointing out this interesting article. And if you're down-and-out in Winnipeg, you'll have to go somewhere else for physical nourishment, as all you'll get from the Unity Truth Center is a sermon, it seems.
Source: Ottawa Citizen