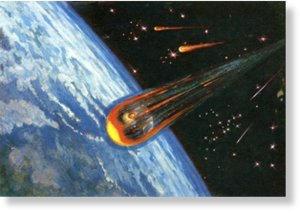 Residents of northeastern Ohio and western Pennsylvania should be on the lookout for space rocks.
At 1:22 a.m. Aug. 8, sky cameras belonging to the Southern Ontario Meteor Network in Canada recorded a meteor as it entered the Earth's atmosphere over Lake Erie, and scientists at NASA say they have "high confidence" that pieces of the meteor landed in northern Trumbull County.
The "fireball" entered the atmosphere 54 miles above Lake Erie, traveling south-by-southeast at approximately 55,900 mph. Dr. William Cooke, head of NASA's Meteoroid Environment Office, said debris created Doppler radar echoes west of Hermitage, Pa.
The International Astronomical Union defines a fireball as "a meteorite brighter than any of the planets." In essence, the mass and speed of the meteor increase its visibility, Cooke said.
Cooke said the fragments are about two to three inches in diameter and likely weigh a few ounces.
Patrick Durrell, an astronomy professor at Youngstown State University said the fragments can be difficult to identify, but there is at least one telltale sign.
"If you pick up a rock that feels a lot heavier than you'd expect for its size, that's a good place to start," Durrell said.
Durrell and Cooke both said meteorite landings like this one are highly common and occur daily.
Jay Reynolds, research astronomer at Cleveland State University, said meteorites like this one are not dangerous, and have no radioactivity but are scientifically "very fascinating when you can find them."
Reynolds said denser meteorites are usually the ones that make contact with the Earth because they can withstand the pressure of the thicker layers of Earth's atmosphere.
He said in this case, the thicker layers caused the meteor to fracture into meteorites.
"While you won't see something like this coming into this area every night, in and of itself, it's not that uncommon," Durrell said.
Cooke said that while meteorite falls are very common, a given point on Earth may only see such a fireball once every couple of decades.
What makes this sighting special, Cooke said, is that the meteor was tracked and its trajectory recorded from start to finish.
"Very few meteorites are tracked on their way down, so this would be very special," Cooke said.
Reynolds said many of the meteorites that have been found over time are composed largely of iron and small amounts of nickel and other metal compounds, with carbonaceous cores.
Cooke, however, said the composition of this meteor is unknown and will not be determined until a fragment is found and studied.
He said the farthest point of the meteor's orbit corresponds with the outer edge of the asteroid belt between the planets of Mars and Jupiter.
Should the National Aeronautics and Space Administration retrieve a piece of this meteor, Cooke said, they could determine the compositional differences of matter based on distance from the sun.
Of course, that kind of research hinges entirely upon somebody actually finding a piece of meteorite, and so far, Cooke said, nobody has reported one.
Residents contacted in Kinsman and Gustavus reported no knowledge of finding any space rock.
"Nobody mentioned it at lunch today. It's news to me," said Kinsman Township Trustee Tony Gates, who dines regularly with residents of Kinsman and Gustavus.
Gustavus Trustee Alan Bradford echoed Gates: "I haven't heard anybody say anything about it."