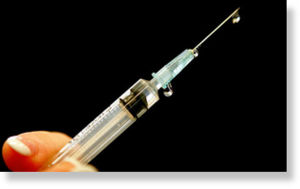 Charred bits of plastic shrink wrap found in some vials of Merck vaccines
Merck said it is still working to resolve the problem
Company said it isn't aware of any adverse health events from the issue
Charred bits of plastic shrink wrap have been found in vials of Merck & Co. (MRK) vaccines, the latest quality problem identified by U.S. regulators at the company's biggest vaccine-making plant and an issue the drug maker said it is still working to resolve.
Merck said it isn't aware of any adverse health events associated with the problem, and that it is confident in the safety and efficacy of its products. The affected vaccines included Gardasil for the prevention of HPV infection, Varivax for chicken pox, Pneumovax for pneumococcal disease, Zostavax for shingles and MMR II for measles, mumps and rubella.
In 2008, the U.S. Food and Drug Administration issued a formal warning letter about deficiencies at Merck's West Point, Pa., plant. Since then, FDA inspection reports have cited more problems:
the presence of metal particles in certain products, cracks in vaccine vials
and delays in Merck's reporting to the FDA of adverse events from products made at the plant.
The Whitehouse Station, N.J., company said it has resolved most of the issues, and none have resulted in a subsequent FDA warning letter to date. Dow Jones Newswires obtained the inspection reports, known as Form 483s, from the FDA under the Freedom of Information Act.
"We do have a complex operation," said James Robinson, vice president of vaccines product and technical operations. "What we are seeing is that the severity and criticality of observations [by FDA inspectors] are declining. What we've seen in the last few inspections tells us we're on the right track."
Merck reported 2010 vaccine sales of about $3.8 billion, or roughly 8% of total company sales; the figures exclude certain vaccines marketed outside the U.S. in a Merck joint venture with Sanofi SA (SNY, SAN.FR).
The drug industry has experienced a series of manufacturing-quality difficulties in recent years, which observers have blamed on aging equipment and budget cuts. Merck and others have responded partly by building new plants and renovating existing ones.
At Merck's West Point plant, pieces of protective shrink wrap on some incoming glass vials weren't removed during washing and were subsequently charred during a heat-based sterilization process, according to an FDA inspection report in April. Some of these vials made their way into customers' hands.
Since November 2009, Merck has submitted to the FDA at least 12 reports of the charred shrink wrap being found in vaccines, according to the FDA report. Eight arose from consumer complaints, and four stemmed from Merck's internal sample testing.
Merck has responded by switching from shrink-wrap to plastic or cardboard trays for incoming vials for a majority of its products, Robinson said.
But in its April inspection report, the FDA said shrink wrap was still being used for some incoming vials, which the agency said made Merck's initial response inadequate. Robinson said Merck expected to abandon shrink wrap on all incoming vials by year's end.
The FDA report also said patient safety risks associated with the charred shrink wrap couldn't be ruled out. Robinson said there have been no reports of adverse events associated with the shrink wrap.
FDA spokeswoman Shelly Burgess said the appearance of any foreign item in an injectable product is a concern.
In May, Merck sent a letter to doctors advising them to be on the lookout for brown particles in its vaccines as well as in vials of Antivenin, a treatment for black-widow spider bites. Merck said small pieces of the shrink wrap, which it called an "inert carbon material," can stick to the inside of product vials and turn brown during the sterilization process.
Merck said use of products containing particles could lead to injection-site reactions, but it shouldn't affect sterility or potency. Merck said the brown particles have been observed in very rare cases, a reported rate of less than one in six million vials overall.
Other FDA inspection findings included the following:
In August 2010, an FDA inspector accused Merck of not reporting to the agency certain adverse events associated with patients' use of its drugs within the required 15 calendar days.

Robinson said Merck is working to improve its on-time reporting of adverse events, and that it currently exceeds the industry average. Some adverse events are reported late because they take longer to investigate, he said.
In February 2009, an inspector cited the presence of metal particles in certain products, as well as cracked vials. The report said Merck should have done more to investigate and address the causes of these problems. Also, Merck had received complaints from doctors regarding bubbling and foaming in vials of certain vaccines.
Robinson said the issues raised in the February 2009 report have been resolved.