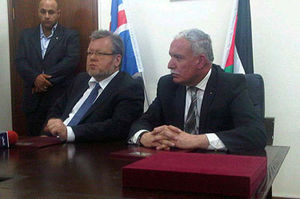 Icelandic Foreign Minister Ossur Skarphedinsson has announced his country will back a formal call for Palestinian statehood at the UN, should a proposed motion be put before the international group this September.
The announcement comes after a two-day trip to Gaza by Skarphedinsson, who met with his Palestinian counterpart, Riad al-Maliki.
"I told him that if it came to be at the United Nations General Assembly in September that a motion would be put forward by the nations supporting Palestinian independence and encouraging other nations to recognise Palestine as an independent nation with its 1967 borders, Iceland would support that," Skarphedinsson told national broadcaster RUV.
"Likewise, if a proposition comes to the UN to include Palestine into the UN as a new nation, as President Obama said he wanted a year ago, Iceland would also support that."
During their meeting, the two Foreign Ministers also agreed on a joint declaration of political understanding and co-operation, which included economic issues. Skarphedinsson also handed over a declaration stating that the office of Palestinian representative would be converted into a formal mission and the office manager would become Palestinian ambassador to the Icelandic government. The meeting also included Mahmoud Abbas, President of the Palestinian Authority, primary negotiator Saeb Erekat and Yasser Abed Rabbo PLO Secretary-General, freedom of association of Palestine.
Erekat came to the meeting directly from sessions in the United States with representatives of US President Barack Obama to discuss next week's meeting of the Quartet, which consists of the United States, European Union, Russia and the United Nations.
Skarphedinsson emphasised unity among the ranks of Palestinians to the group, reports DV, calling any schism in the ranks a "great weakness." President Abbas publicly thanked the FM for his support, calling it an "honor."
Birgitta Jonsdottir, an Icelandic parliamentarian for The Movement, preceeded Skarphedinsson by a day, visiting the beleagured second Gaza flotilla and boarding the American vessel
The Audacity of Hope
. 14 civilian crew members on the first flotilla were killed when their ship was raided by IDF soliders during an attempt to break an Israeli blockade of Gaza.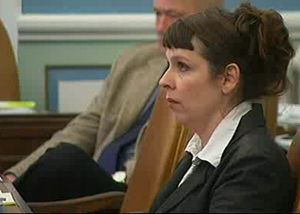 On her blog
, Jonsdottir called on Greek Foreign Minister Stavros Lambrinidis to "show some courage, to stand up against foreign powers - in this case Israel - like his ancestors did," in writing about her visit.
Skarphedinsson traveled through Egypt to get to Gaza, and later visited the West Bank via Jordan, reports DV. The Foreign Minister skipped Israel altogether during his trip. But all was not well during his trip, as Skarphedinsson claims Israeli soldiers blocked his progress with large stones.
"Today [Sunday] we were in a long car entourage with Icelandic and Palestinian flags en route to the city of Qalqylie to see how the Israeli army has literally walled it in. When we went to a checkpoint where passports are checked, we were not allowed to continue," Skarphedinsson claims. "To underline the fact, soldiers rolled large rocks out into one of the two streets at the crossroads.
"After a lot of fuss and bother, we had no choice but to take the other road and the trip which should have taken 45 minutes took three hours. This is the daily lot of people living in this area. It is very humiliating for normal citizens to have to put up with this and it disrupts the town's entire functionality. I also understand from my staff that they [Israeli authorities] have sent a sternly worded letter protesting my trip and that my route deliberately avoided Israel. But last time when I intended to go that way the Israelis slammed the door at the last minute - such is their way of delaying visits of this sort."