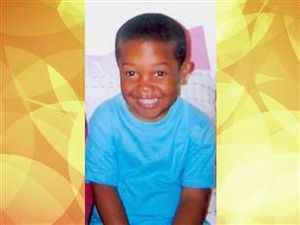 Drunk driver got six months after hitting boy; she could get up to three years
A mother who could serve more jail time for jaywalking than the man who killed her 4-year-old son in a hit-and-run accident tried to come to grips with that brutal reality in an emotional
interview with TODAY's Ann Curry
on Monday.
Raquel Nelson, 30, faces up to three years in prison after being convicted July 12 of second-degree vehicular homicide, reckless conduct, and failure to use a crosswalk during an incident that occurred on the night of April 10, 2010. She and her three children had gotten off at a bus stop in Marietta, Ga., and were trying to cross a four-lane highway without using a crosswalk in order to reach their apartment. Jerry Guy, a man who had two prior hit-and-run convictions, struck the family with his van as they were crossing, killing 4-year-old A.J. Nelson in the process.
Guy served a six-month prison sentence after pleading guilty to a hit-and-run and was released on Oct. 29. He is currently serving five years of probation. Nelson faces up to 36 months in jail when she is sentenced at a hearing on Tuesday.
"I've had to accept that he's gotten six months,'' Nelson told Curry in an exclusive interview. "There's nothing I can do about it. Even though he has had a history of it, I know that nobody gets up that day and says, 'I'm going to kill a 4-year-old.'
"I've had to forgive that portion of it. However, I think to come after me so much harder than they did him, it's a slap in the face. This will never end for me.''
"Miss Nelson was shown no sympathy whatsoever by the system,'' attorney Mark Schwartz told NBC News. "This will live with her forever.''
'They've never really been in my shoes'
Nelson and her younger daughter suffered minor injuries in the accident, while her older daughter was unhurt. Through his lawyer, Guy admitted at the time to having consumed alcohol earlier in the day while also on pain medication. Guy also is also partially blind in one eye, and had two prior hit-and-run convictions on his record that both occurred on Feb. 17, 1997. He received a two-year prison sentence but was released in less than a year for those convictions.
Meanwhile, Nelson faces a much longer stretch for her decision to not use a crosswalk. According to news reports, residents of her apartment complex had previously complained to the city about the difficulty of getting home from the bus stop.
The nearest crosswalk from the bus stop was nearly three-tenths of a mile away, so like many others who regularly use public transportation in that area, Nelson crossed to the center median with her children. After several others had crossed the other two lanes to reach the other side of the highway, she followed with her children while clutching grocery bags. A.J. was then fatally struck by Guy's van.
"It is her fault and it is his fault, but at the same time she's suffered such a great loss, so I just don't see what putting her in prison is going to do,'' Michael Johnson, one of Nelson's neighbors, told NBC News.
During jury questioning for Nelson's trial, when members of the jury that would eventually convict her were asked if any of them relied on public transportation, no one raised their hand. A handful admitted to occasionally taking the bus to go to Atlanta Braves games.
"I don't think they could relate to what I was going through,'' Nelson said. "All stated that they've never ridden public transportation and they've never really been in my shoes, so I think there was maybe not a jury of my peers.''
Hoping for compassion
A working single mother and college student who had taken her children to shop for groceries and birthday party supplies on the night of the fatal accident, Nelson admitted that the impending jail sentence has made it difficult for her to grieve the loss of her son more than a year since his death.
"In my own ways, it's been harder because of this situation, because it made me have to hold up just behind all the pressure of knowing that I possibly could not be with my other two children,'' she told Curry.
Not only would a three-year prison sentence add to the anguish of losing a child, it would leave her two other daughters without a mother.
"It's three years away from the two that I have left, and the part of him that stays alive with me to a degree other than remembering him,'' Nelson said. "The worst part for me is just separation from my other two.''
Nelson's aunt, Loretta Williams, appeared alongside her on
TODAY
for support. She and Nelson's neighbors are hoping that the judge sentencing her on Tuesday will show some leniency.
"We're just hoping as a family that she is compassionate and lets my niece remain with her other children,'' Williams told Curry. "She hasn't really had a chance to grieve yet, and I believe that she needs to be able to continue with her life with my other nieces.''
"It's just a real horrible situation,'' neighbor Johnson said. "I'm just hoping that she'll pull through it and make the best of it.''
While the roadside memorial for her son is now gone, Nelson's memory of the accident will be there forever.
"I miss him a whole lot,'' she said after taking a deep breath. "I think that my other two daughters are the reason that I've been able to survive the situation, [by] just giving me something to move on for.''