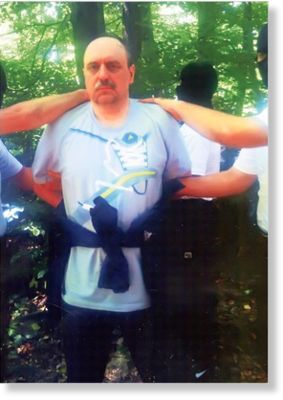 The last Serbian fugitive wanted by a United Nations war crimes tribunal was arrested in a Serbian forest early Wednesday, a quiet event that appeared to remove the final major obstacle blocking the nation's access to Western money and European Union membership.
The suspect, Goran Hadzic, 52, is a former Serbian rebel leader who is accused of committing war crimes and crimes against humanity. He was arrested near the village of Krusedol in northern Serbia as he was about to meet "with a helper, who was supposedly bringing him some money," said Vladimir Vukcevic, the war crimes prosecutor in Belgrade, Serbia's capital.
Mr. Vukcevic said investigators had caught up with Mr. Hadzic recently because he had apparently run out of money after seven years on the run and was trying to sell a painting by Modigliani. "He was penniless," Mr. Vukcevic said.
Investigators in Belgrade said the painting was believed to be "Portrait of a Man," one of several Modigliani works listed as stolen. But it was not clear if the painting was authentic or a fake.
Mr. Hadzic was armed when he was arrested and was carrying documents with a false name, the prosecutor said. He had changed his appearance and shaved off a bushy beard, the police said.
In Belgrade, a judge immediately began the process to hand him over to the tribunal for the former Yugoslavia in The Hague. Mr. Hadzic told the judge that he had lived and worked for long periods in Russia, the Belgrade newspaper
Blic
reported.
"With this, Serbia has now concluded its most difficult chapter in the cooperation with The Hague tribunal," President Boris Tadic of Serbia said. He said the country had now fulfilled its "legal duties," as well as its "moral duty," for the sake of Serbian citizens, for victims in other nations and for reconciliation.
Mr. Hadzic had long been overshadowed by the more well-known figures on the most wanted list, like Radovan Karadzic and Ratko Mladic, the former Serbian political and military leaders in Bosnia. Mr. Karadzic was arrested in 2008, and Mr. Mladic was captured this year.
Mr. Hadzic, a former warehouse worker, was little known in Serbia before the war that began in 1991, when rebel Serbs, with the help of Belgrade, seized one-third of Croatia to turn it into territory for Serbs only. He was appointed as the ministate's political leader because he was thought to be a figure trusted by Serbia's secret police.
Prosecutors will seek to hold him responsible for atrocities committed by rebel forces, aided by brutal paramilitary groups from Serbia.
The most notorious episode involved a three-month siege and the eventual destruction of the town of Vukovar. As Croatian Serbs overran the town, they seized more than 260 men from a hospital and executed them. An estimated 20,000 non-Serbs were driven from Vukovar.
The tribunal indicted Mr. Hadzic in 2004 and sent a secret arrest warrant to Serbia, but Carla Del Ponte, the chief prosecutor at the time, said in an interview that just hours after the warrant was delivered in Belgrade, Mr. Hadzic was tipped off and disappeared from his villa in Novi Sad.
Toma Fila, Mr. Hadzic's lawyer, said Mr. Hadzic had lived abroad for many years. He denied the police reports that Mr. Hadzic was armed when seized.
In The Hague, the prosecutor's office said it had been aware that Belgrade investigators turned their resources and attention to Mr. Hadzic's case in the past two months, after the capture of Mr. Mladic. Prosecutors had complained for years that Serbia was either blocking the movement of war crimes cases or handing over suspects in fits and starts, depending on who was in power.
Their criticism has delayed Serbia's attempts to join the European Union, which had made cooperation with the tribunal a condition for membership talks. Although most of the 27 countries in the union had softened their stance in recent years, the Dutch government, which hosts the tribunal, was a holdout.
Within hours of the arrest, European Union leaders issued a statement praising the Serbian government. A decision on whether to open membership talks is scheduled for October. If Mr. Hadzic is sent to The Hague, as expected, the tribunal may be able to complete all its cases by 2014, when it is scheduled to close.
Nicholas Kulish contributed reporting from Berlin.