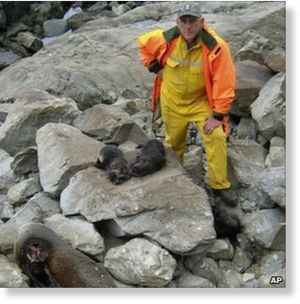 A New Zealand teenager has pleaded guilty to killing 23 seals and seal pups with a metal pipe because he thought they were pests.
Jason Trevor Godsiff attacked the seals while he was on his way home from work on a building site near Kaikoura on South Island.
He stopped at a seal colony and bludgeoned the animals to death.
The 19-year old, who will be sentenced on 13 September, was convicted of wilfully mistreating protected animals.
Another man, 36-year-old Jamaal Peter Roy Large, faces the same charges but has not yet submitted a plea.
Staff from the department of conservation found the battered seals, including newborn pups, at the bottom of a 30m (100ft) cliff.
"This is a callous and cowardly attack on seals, especially newborn pups, unable to defend themselves against someone striking them with a bat or similar club-like object,"
the department's regional manager Dave Hayes said at the time.
Fur seals are protected in New Zealand and anyone caught harming them faces six months in jail and heavy fines.
The seal colony stretches 2km (1.2 miles) on the east coast of the South Island.