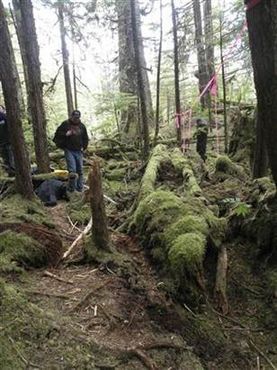 An unfinished Indian canoe, apparently abandoned 500 years ago, has been discovered in a remote section of an Alaska rain forest, according to officials.
The canoe, carved from cedar, was discovered under a thick layer of moss and is surrounded by trees that are several hundred years old, Sealaska Corp., the Alaska Native corporation that owns the land, said in a statement.
The artifact was first spotted last winter by a surveyor checking potential timber-harvest sites, but the discovery was kept confidential until now, the company said.
Its exact site - near the Haida and Tlingit village of Kasaan on Alaska's Prince of Wales Island - was also being kept confidential, Sealaska said.
Preliminary examination shows that ancient hand tools, not modern saws introduced by Europeans, were used to cut the wood and hollow out the canoe, Sealaska officials said.
Based on that, and on the age of the cedar trees that have grown up around the site, experts believe the canoe is roughly 500 years old.
Rosita Worl, an anthropologist and president of the Sealaska Heritage Institute, said she knows of only one other canoe found in the rain forest of southeast Alaska. This is a special find, she said on Wednesday.
"This is a pretty ancient one. It probably predates anything we have in museums, so we might be able to look at the dimensions and find out are we making canoes differently today," she said in an email.
Public announcement of the discovery was delayed until after the snow melted and an archeological and tribal team examined the canoe and the site, Worl said. She said she and others also needed time to ensure it was not a burial site.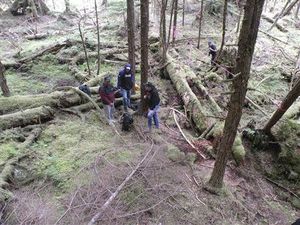 The canoe was almost completed but had not yet been steamed, the traditional process that gives wooden watercraft their final shapes.
Worl said she does have a theory as to why the unfinished canoe was abandoned, speculating that disease may have swept through the carver's village.
"That's a valuable piece of equipment they left there in the forest, and that's (a) monumental task to hollow out a canoe with hand tools. Why did they leave it there? Only thing I can think is there was sickness in the village," she said.
Worl said she hopes a replica will be made so modern canoe-makers will be able to study ancient techniques. Eventually, she said, the tribal government in Kasaan will decide what to do with the canoe and the discovery site.
For now, the canoe remains at the forest site where it was found, and the moss has not yet been removed, Worl said.
Sealaska is a Juneau-based corporation established under the 1971 Alaska Native Claims Settlement Act, and owned by Alaska Natives of southeast Alaska. The Heritage Institute is an affiliated nonprofit cultural organisation.