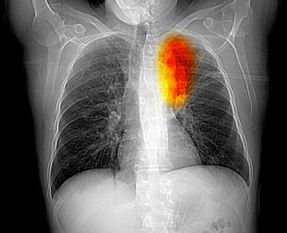 Overcoming lung cancer is a 'postcode lottery' and survival rates depend on a patient's address, a study reveals today.
According to the findings, more people are diagnosed with the disease and die from it in the North than the South.
The quality of treatment also differs significantly from one part of the country to another, it shows.
The report, by The Roy Castle Lung Cancer Foundation, is to be launched in Parliament today.
The charity's chief executive Dr. Rosemary Gillespie has condemned the geographical inequalities and called for improvements in regions where there is a poor prognosis for patients.
'Despite recent advances, lung cancer remains a devastating disease and the most common cause of cancer death in England,' she said.
'Your chance of surviving lung cancer and receiving a treatment which could benefit you should not be decided by where you live in the country.

'Sadly, it is clear that this is indeed the case and there is significant geographical variation in patient survival and patient access to care and treatment.

'We hope this report will act as a tool to help bring those areas with a poorer service and outcomes up to the standard of the best, so we can improve the experience of all lung cancer patients and save lives.'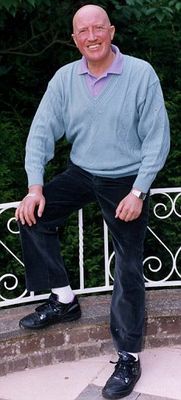 The report has identified a threefold difference in mortality rates with Liverpool Primary Care Trust (PCT) recording the highest and Herefordshire the lowest.
While the average length of survival for a lung cancer patient after diagnosis is 188.5 days, this varies from 150 days for patients living in Coventry, Warwickshire and Worcestershire, to 224 days for people living in the Thames Valley area.
The chances of surviving for a year are similarly varied.
At the top end, some 43.7 per cent of those who receive care from Kensington and Chelsea PCT will survive for a year, compared with only around 15 out of 100 lung cancer patients who fall under the remit of Herefordshire PCT. This is despite the latter region having the lowest mortality rate.
Surgery rates are low across the country with just 19.9 per cent of sufferers receiving treatment in the best performing area, the North East London Cancer Network, the study found.
In this area, a patient is more than twice as likely to receive cancer surgery as a patient in Sussex Cancer Network.
The chance of seeing a specialist lung cancer nurse also depends on where you live, ranging from 13.6 per cent of patients diagnosed in Kent and Medway Cancer Network compared with 90.4 per cent in Dorset.
People living in deprived areas are less likely than others to have received chemotherapy treatment, the report concluded.
It also showed a significant difference across the country in the number of days a patient spends in hospital after being admitted as an emergency.
Patients cared for by Kensington and Chelsea PCT stayed around 16 days while in Great Yarmouth and Waveney PCT, the average duration was five days.
The report analyzed data from a variety of sources including the Department of Health, Cancer Research UK and the National Cancer Intelligence Network, an organization which drive improvements in standards of care.
A Department of Health spokesman said:
'We are pleased the Roy Castle Lung Cancer Foundation have used our data to highlight unacceptable differences in lung cancer mortality and survival rates.'

'This will help local health services to address regional variation and drive up patient outcomes.'

'We have also committed over £750 million over the next four years to bring our cancer survival rates up to the European average. This funding will give GPs increased access to diagnostic tests to help them achieve earlier diagnosis, including greater use of chest X-rays to diagnose lung cancer.

'Wherever people live, they should be able to access the same high-quality services.'