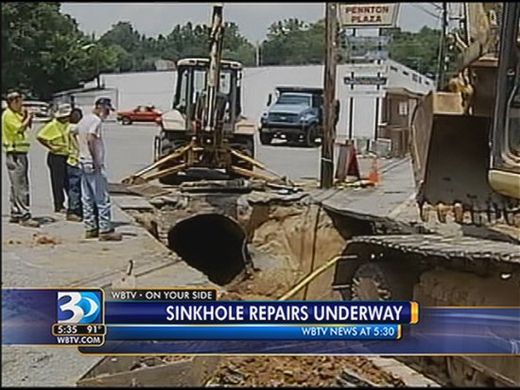 Lenoir, North Carolina - A small sinkhole in Lenoir was much bigger than officials thought.
When work crews began digging on Monday they found that hole that was just a foot wide at the surface of the pavement, was more than twelve feet wide under the pavement.
"The pavement was holding itself up," said Streets maintenance Supervisor Estel Osborne. Pennton Avenue was closed last week as a precaution when the problem was discovered and Osborne said it was lucky they did keep cars off of the spot. "There was nothing under the asphalt."
Crews on Monday cut out a forty foot section of the road to get to the drainage problem that caused the sinkhole in the first place.
"There's an old pipe in there and the bottom of the pipe just rusted out." The pipe carries water from an old creek under the roads and buildings in the area.
It has been in place for more than fifty years, said Osborne and is not the only old pipe in the city's storm drain grid.
"Yeah, I'm afraid so and what's been done years and years ago are just now rusting out." The city had another drainage problem three months ago similar to this one.
Officials are concerned more pipes could start to fail. So far, the problems have been few.
Area businesses are hoping the current problem can be repaired quickly. The blocked roads have made it difficult for customers to get in.
Officials say it will take about a week to fix the first section where crews were digging Monday but say another 70 feet of roadway may have to be dug up later for a permanent fix.