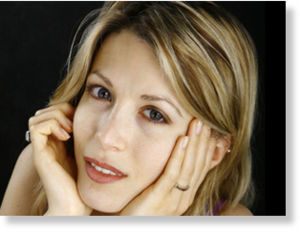 Dominique Strauss-Kahn faced a potential new sexual assault investigation Monday after a young French writer said she would formally accuse him of trying to rape her during a 2002 book interview - a dizzying turn of events just as the former IMF chief's fortunes seemed to be growing brighter.
With France debating his possible return to presidential politics, Strauss-Kahn swiftly hit back at author Tristane Banon's plans to take him to court over the attempted rape accusations, labeling her account "imaginary" and countering with his own plans to file a criminal complaint of slander.
The sordid exchange may have deep ramifications for the 2012 presidential race in France, where the surprise weakening of the sexual assault case against Strauss-Kahn in New York last week sparked a fierce debate about whether he should return to politics if the American case against him collapses completely.
Before Banon's announcement, polls showed voters were evenly split about whether Strauss-Kahn, 62, should try to revive a career that until recently had him on track to take on conservative President Nicolas Sarkozy in the race to be France's next leader.
"DSK Back?" the left-leaning daily Liberation asked on its front page Monday.
Some politicians and pundits see Strauss-Kahn, who won plaudits for his stewardship of the International Monetary Fund, as a victim of overzealous American prosecutors and journalists who denied him the presumption of innocence when a maid accused him of forcing her to perform oral sex in his Manhattan hotel room.
"He was crushed, then, by that fraction of the American judicial apparatus that, by putting Dominique Strauss-Kahn in stocks, by humiliating him before the entire world, by ruthlessly pursuing him, has probably ruined his life," celebrity philosopher Bernard-Henri Levy wrote on
The Daily Beast
website.
Others have expressed disgust with allegations that the Socialist politician routinely subjected women to crude sexual advances, and lived a luxurious lifestyle out of touch with ordinary French people, even in the glare of press attention in New York.
"Between his luxury tastes and other subjects, Dominique Strauss-Kahn has not offered a very positive image recently," Sports Minister Chantal Jouanno, a Sarkozy ally, said on Europe-1 radio.
Strauss-Kahn has been living under house arrest in a $50,000 (€34,500)-a-month town house in the trendy TriBeCa neighbourhood. Once released, Strauss-Kahn had dinner at a pricey Manhattan restaurant.
"To see Strauss-Kahn freed then straight away eat in a luxury restaurant with friends, that makes me sick," Banon told the magazine
L'Express
in an account published Monday. "I only want one thing, that he comes back to France, with his presumption of innocence, so that we can go before a court."
Banon, 31, said on a 2007 television show that she had been attacked five years earlier by a politician she had interviewed for a book in his apartment. She later identified the man as Strauss-Kahn.
"It finished very violently," she said on the television show. "I kicked him. He opened my bra. He tried to undo my jeans. It finished very badly."
Lawyer David Koubbi said Banon had been dissuaded from filing charges by her mother, a regional councillor in Strauss-Kahn's Socialist party. Her mother, Anne Mansouret, admitted in a French television interview in May that she had urged her daughter not to file a complaint after the incident.
Banon came forward again after Strauss-Kahn's May 14 arrest in New York, but Koubbi said his client had no intention of pressing charges while the American prosecution was going on because the two cases should be kept separate.
Banon is now moving forward, Koubbi told The Associated Press. He denied that decision was connected to the weakening of the U.S. case.
"It is all the same to me what happens in the hours and days to come in the United States," he said.
Strauss-Kahn's lawyers said that Strauss-Kahn "has always said that the incident described by Ms Banon since 2007 is imaginary."
"He notes that this complaint comes quite conveniently right at the moment when there is no longer the slightest doubt about the false nature of the accusations against him in the United States," attorneys Henri Leclerc and Frederique Baulieu said in a joint statement.
Koubbi did not respond to phone and text messages left asking about the slander accusation.
If Banon files her complaint, a prosecutor can conduct a preliminary investigation to determine if there is enough evidence to support charges against Strauss-Kahn. Preliminary charges are followed by a lengthier investigation, sometimes lasting years, to determine if the case should go to trial before a judge.
The same process would apply to the slander complaint against Banon.
Prosecutors could decide not to pursue the case against Strauss-Kahn if they find evidence he engaged in forcible sexual contact that fell short of attempted rape. The statute of limitations on the charge of "sexual assault" is three years, while attempted rape charges can be filed for as many as 10 years after the alleged crime.
Strauss-Kahn has relinquished his passport to authorities in New York. Another court hearing would be needed for him to get it back. His next appearance is scheduled for July 18 - five days after the deadline for candidates to register in the Socialist Party primary.
"Let's acknowledge that if Strauss-Kahn decides to come back as a candidate on our side, no one will try to oppose him using some calendar," Socialist Party leader Martine Aubry said before Banon's announcement.
The Socialist Party's spokesman appeared to disagree, an indication of the confusion and disagreement within the party about betting the opposition's 2012 chances on Strauss-Kahn.
"We can't base the (political) calendar, which involves millions of French people, on the American judicial calendar," party spokesman Benoit Hamon said Monday.
A poll released Monday found that 51 per cent of French people found that Strauss-Kahn no longer had a political future, versus 42 per cent who thought he did.
The telephone poll of 956 adults selected as a demographically representative sample was conducted July 1 and 2 by the Ipsos Public Affairs institute for the magazine
Le Point
. No margin of error was provided.
Another poll out Sunday conducted by Harris Interactive poll for the newspaper
Le Parisien
showed 49 per cent of those surveyed saying 'yes' to the question "Without prejudging his innocence or guilt, do you want DSK to come back to the French political scene one day?"
At least some were won over by what they perceived as his mistreatment in the U.S.
"I had no intention of supporting him in the first round, but if he returns to French political life I will certainly vote for him," Jean-Rene Gendre, 63, said as he went shopping in central Paris. "What happened to him I think was a terrible manipulation."
Forty-five per cent of respondents to the Harris poll said they didn't want Strauss-Kahn back in politics and six per cent didn't answer the question. The agency asked a demographically representative group of 1,000 people 18 years old and older to fill out the July 1-2 online survey. No margin of error was provided.
Source: The Canadian Press