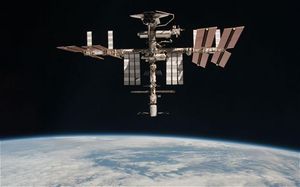 Fragments of space debris came perilously close to colliding with the International Space Station on Tuesday, prompting its crew to seek temporary refuge in two Russian-built escape craft.
The worrying incident, thought to be only the third of its kind since the international project began in 1998, saw space debris pass within just 820 feet of the space station at high speed and at late notice.
"The space debris was detected too late for the station to perform a ducking manoeuvre," a Russian space official conceded. "The six crew members were given orders to relocate to the (two) Soyuz spaceships," he added. If the station had been fatally damaged by the debris, the crew would have evacuated it completely, he said, but in the event the debris hurtled past without incident and they were able to unlock the hatches and calmly return to the station.
The two Americans, three Russians and one Japanese astronaut spent a nerve-racking half an hour before mission control gave them the all clear however. The station's crew is usually given more warning of potential collisions by Mission Control on earth and therefore has the time to use the station's thrusters to change its orbit and move it out of the path of any oncoming debris.
The ISS, the largest space station ever built, is used for scientific experiments and is in low earth orbit, an altitude cluttered with space junk. The debris includes spent rocket stages, old satellites, metal fragments created by anti-satellite weapons, and even flakes of paint.
Though small the debris represents a serious threat to the station and the crew's lives due to the high speed at which it travels. The ISS itself could remain in operation until 2028 and is regarded as a unique testing ground for future manned missions to Mars and the Moon. It orbits the earth at between 173 and 286 miles and travels at an average speed of 17,227 miles per hour completing 15.7 orbits per day.