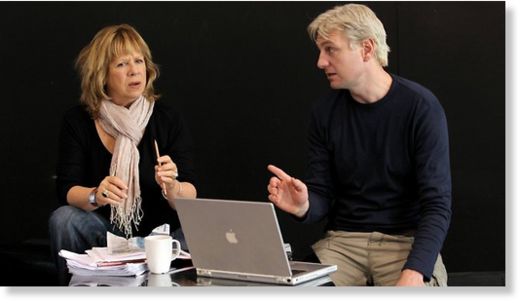 Christine Assange hasn't read the script for the world's first "wikiplay" about her son but she has firm views about its subject matter. "Every piece of misinformation that goes out is another nail in Julian's coffin," she says.
Stainless Steel Rat
, by Melbourne playwright Ron Elisha, focuses on eight months in the life of WikiLeaks's Julian Assange.
The central character is played by Darren Weller. Other figures portrayed include Barack Obama, lawyer Geoffrey Robertson and Julian's son, Daniel.
Christine Assange asked, at the urging of her son, to see the script. "Creative objectivity" was the reason she was knocked back. But that's not why she will not be among the audience when the play has its premiere in Sydney next week. "I'm too busy trying to save his life," she says.
Assange is on bail in Britain awaiting the outcome of his appeal against extradition to Sweden, where he faces sexual assault allegations. His mother is certain Sweden would hand him over to the US.
"There are many people that could tell you it's a set-up," she says. "All circumstantial facts support the belief that there's political interference in the case."
In
Stainless Steel Rat
- the title refers to a sci-fi series by Harry Harrison - Valerie Bader's roles include Julia Gillard and Christine Assange. "It's so easy to portray someone like Julian from a distance," Bader says. "Christine comes in with the human side of things."
The pair spoke recently after Assange emailed director Wayne Harrison congratulating him on "beating the yanks to it". Bader was eager to learn how Assange's ordeal had effected his mother.
"She was just fantastic," Bader says. "She opened up and told me about the effect it had on her physically and emotionally."
Being a wikiplay,
Stainless Steel Rat
relies on the internet for its factual skeleton. "A lot of the information on the internet is true and a lot of information is untrue," Christine Assange says.
At least twice a day she checks the press for false information about her son, often responding to authors with corrections.
"What I was on about all my life with Julian was the most important thing in life is truth and justice," she says. "He's gone out and done truth and justice and what does he get for it?"
She will not be travelling to London for the July 12 hearing, but she is raising awareness for her son, who turns 40 next month, through her campaign Justice for Julian in July.
At the end of the month, she will also speak at Splendour in the Grass music festival in Queensland at a forum on who controls the internet, to be moderated by Julian Morrow from
The Chaser
.
Stainless Steel Rat
opens with previews at Sydney's Seymour Centre tomorrow. Season ends on July 17.