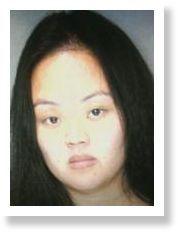 In what police say is an extremely rare and disturbing case, a Sacramento woman was arrested this morning for allegedly killing her 6-week-old daughter in March by placing her in a microwave oven.
Ka Yang, 29, was arrested at her Sacramento home this morning and charged with homicide after a three-month investigation into what caused unusual burns on the child, Mirabelle Thao-Lo, who was found dead on the afternoon of March 17.
Sacramento police spokeswoman Laura Peck said there have been only three previous cases involving a child being burned in a microwave, and that detectives studied those cases and consulted with medical experts and pathologists before making the arrest.
"It was a lengthy investigation to determine how these burns occurred," Peck said. "When the officers arrived on scene they immediately saw there were unexplained injuries because of the burns. That led to this very lengthy, involved investigation to determine how these unusual and rare injuries occurred."
The infant's fourth-degree burns were among the worst investigators at the Sacramento County Coroner's Office had seen, coroner's spokesman Ed Smith said.
"The child was apparently killed by the burning of the tissue," Smith said. "I don't know if they can say how long baby was in the microwave."
Yang has three other children, all boys ages 7 and younger, and they were removed from the home that day, police said.
The mother remained under suspicion while detectives studied previous cases in Texas, Virginia and Ohio.
Peck said the Texas case involved a Galveston child who survived being placed inside a microwave. A second case in Dayton, Ohio, involved the 2005 death of a 4-week-old baby and resulted in a guilty verdict and life sentence last month for the baby's mother.
The 1999 death of a 1-month-old Virginia baby resulted in a five-year sentence for the mother.
Peck said the rarity of such cases contributed to the length of time between Mirabelle's death and today's arrest.
"That's why it took so long," she said. "Normally, we make an arrest within a few days. But in a situation like this where we had to do so much analysis, it took some time for us to piece together."
Jail records show Yang is still in the process of being booked on charges of murder and assault resulting in the death of a child under 8.
Sacramento police studied three other known cases of babies being burned inside microwaves before today's arrest of Ka Yang, including:
The September 1999 death of 1-month-old Joseph Lewis Martinez in New Kent County, Va. The baby was found in the oven and his mother, Elizabeth Renee Otte, told authorities she became confused during an epileptic seizure and placed the boy in the microwave instead of a bottle of milk. She was charged with murder and in 2000 pleaded guilty to involuntary manslaughter and was sentenced to five years.
The August 2005 death of 4-week-old Paris Talley in Dayton, Ohio. Talley's mother, China Arnold, stood trial three times before her conviction last month on charges of aggravated murder. The jury in the case recommended a life sentence.
The May 2007 injury of 2-month-old Ana Mauldin, who suffered burns on her left ear and arm after being palced inside a microwave oven for about 10 seconds in a Galveston, Texas, motel. The girl's father, Joshua Mauldin, originally told authorities the child had been injured through by sunburn or scalding water. He was convicted in 2008 of injuring a child and sentenced to 25 years.
Sources:
Washington Post, Dayton Daily News, Galveston Daily News, Houston Chronicle.