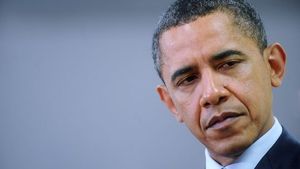 President Obama is in the final phase of determining how many U.S. troops he will withdraw from Afghanistan next month and plans to announce his decision Wednesday, administration officials said.
The announcement is also expected to lay out a glide-path for further withdrawals between now and the end of 2012, including the 33,000 so-called "surge" troops he sent there early last year as part of a broad counterinsurgency strategy that the administration has said succeeded in clearing Taliban fighters from key areas in southern Afghanistan.
The number and pace of the withdrawals, from a current total of about 100,000 troops, has been a contentious issue within the White House and between the administration and the U.S. military, which has warned against a significant withdrawal before gains of the last year are solidified.
The administration had hoped to couple Obama's announcement on troop withdrawals with news of progress on political reconciliation with Taliban leaders. But discussions have stalled following several rounds of talks this spring between U.S. officials and Taliban interlocutors, first in Qatar and later in Germany.
Obama has been under conflicting pressure on the pace of troop withdrawals from his own advisers, some of whom believe that the the broad civil-military campaign in Afghanistan has overreached, and argued that the killing last month of Osama bin Laden in Pakistan has greatly weakened al Qaeda.
Unlike the months-long series of high-level discussions held before adopting the strategy in late 2009, Obama has spent the last several weeks talking with senior advisers alone and in small groups, according to officials who spoke on condition of anonymity about the closed-door meetings.
White House press secretary Jay Carney said Monday that Obama was "still finalizing his decision," but that "the announcement will come soon."
Outside the White House, lawmakers and a war-weary public have voiced their own opinions about what the president should do. In a resolution passed at their annual conference Monday in Baltimore, the U.S. Conference of Mayors urged Congress to quickly end the wars in both Afghanistan and Iraq and spend the month--about $112 billion this year in Afghanistan alone--on jobs at home.