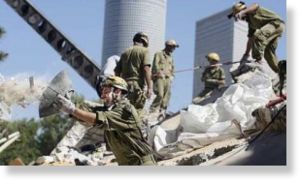 Home Front Command launches fifth major drill to prepare civilians in case of attack; sirens to sound across country on Wednesday, when citizens will be requested to retreat to nearby shelters.
The Israel Defense Forces began a nation-wide Home Front defense drill on Sunday, to prepare security forces for an array of possible attacks.
The exercise, codenamed Turning Point 5, includes a number of scenarios, including a strike on a power plant, missiles being fired at targets across the country and one of hackers breaching into key Israeli computer systems.
Municipalities, government offices, schools and kindergartens are to practice evacuating their buildings. Rescue services will also practice the evacuation of a geriatric hospital near Tel Aviv and of a factory housing hazardous materials.
On Wednesday, all of Israel's 7.7 million citizens will be asked to participate. Sirens are scheduled to sound twice across the country, in the morning and in the evening, and residents have been asked to rush to protected rooms and shelters, where they are to stay for 10 minutes.
Israel has been holding similar nation-wide drills over the past five years, in response to critics who said the government and the Israeli military's Home Front Command had been ill-prepared for the 2006 Second Lebanon War, in which the radical Shiite Hezbollah movement fired thousands of missiles at northern Israel during 33 days of heavy combat.
"The national exercise is aimed at preparing for extremely severe and tough scenarios," Home Front Defense Minister Matan Vilnai told Israel Radio.
Israel's "power of deterrence" and its ability "to deal a tough blow" would make anyone think twice before pondering an attack against it, he warned, but added that his country "must be prepared, also for difficult scenarios" in which hundreds of missiles hit the country at the same time.