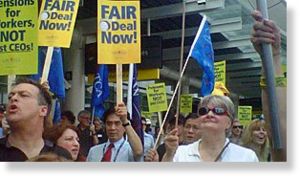 Air Canada's customer service agents and other airport workers are on strike after negotiations between their union and the airline failed to reach an agreement.
A spokesman from the Canadian Auto Workers union, which represents the 3,800 striking employees, says pensions and wages were key sticking points.
Union president Ken Lewenza had said earlier there was a "huge gap" between the airline and the union on those two issues.
Air Canada (TSX:AC.B) says it has a contingency plan in place to continue operating a full schedule even as the strike goes ahead.
The airline urges passengers to check its website because a high volume of calls could make it a long wait to get through to its call centres, which were largely operated by employees who have now walked off the job.
Federal Labour Minister Lisa Raitt has said she's concerned about the potential impact of a work stoppage on Canadians and on Canada's economic recovery.
The union aired its concerns on the pension issue well before the strike began.
The airline had proposed new hires would receive defined contribution pension plans instead of the defined benefit plans current employees have.
The company's unions agreed to accept numerous concessions worth billions to help the company to survive, but they insisted their defined benefit pension plans be saved.
Defined benefit plans are designed to provide retirees with a predictable income, but they expose the airline to additional costs if the pension fund's assets aren't able to pay for the benefits.
With defined contribution plans, the airline's contribution is limited to a set, negotiated amount and payouts to retirees depend on the performance of the underlying investments.
Union officials have said the airline wants to also gut the pensions of current workers.
Air Canada has about $13 billion in pension commitments to 26,000 active employees and 29,000 retirees. Estimates in January found that the plan is underfunded by about $2.1 billion.
Air Canada was forced into creditor protection from April 2003 to September 2004, due in part to the cost of dealing with the company's pension deficit.