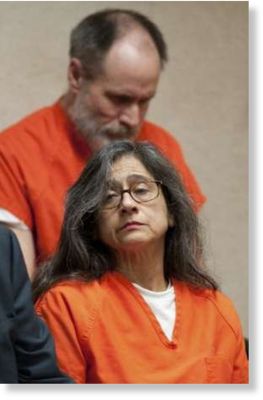 A California woman kidnapped as a girl and repeatedly raped over 18 years hit out at her abductors Thursday saying they had stolen her life, as a court sent the couple away behind bars.
Jaycee Dugard, who was 11 when she was seized and is now 31, said she "hated every second" of her abuse at the hands of Phillip and Nancy Garrido, telling them: "There is no God in the universe that would condone your actions."
Phillip Garrido, who fathered two children with Dugard after kidnapping her in 1991, was given 431 years, while his wife was jailed for between 36 years and life, after a plea bargain.
Clad in orange prison uniforms, the Garridos -- who pleaded guilty in April under a deal with prosecutors -- sat silently as Dugard's statement was read out in the court by her mother, Terry Probyn.
"To you, Phillip, I say that I have always been a thing for your own amusement. I hated every second of every day of 18 years because of you and the sexual perversion you forced on me," Dugard said in the statement.
"As I think of all of those years, I am angry because you stole my life and that of my family. Thankfully I am doing well now and no longer live in a nightmare," Dugard added.
Nancy Garrido's lawyer Stephen Tapson, who said the 55-year-old would serve at least 20 years behind bars, read a statement to the court on behalf of his client, acknowledging that "what she did was evil."
Phillip Garrido's lawyer Susan Gellman said the 431-year sentence was "excessive," but he had "made his peace with it." After listening to the victim statements in court, Garrido said "I agree with what they said," she said.
"He feels very remorseful and very bad about what he did," and "cares about his victims very much," Gellman added.
In a deal with prosecutors agreed in April, Garrido pleaded guilty to counts including kidnap, kidnap for the purpose of sex, forcible rape and forcible lewd acts, while his wife pleaded guilty to kidnap and rape.
Both have waived their right to appeal.
Garrido, now 60, was accused of kidnapping Dugard outside her home in South Lake Tahoe, California on June 10, 1991, just three years after he was released from prison, where he served only 11 years of a 50-year sentence for a rape.
Dugard was found alive in August 2009 in the secret backyard compound of Garrido's home in Antioch, east of San Francisco, where he had imprisoned her.
Her release came just months after Josef Fritzl had been jailed for life in Austria for holding his daughter as a sex slave for 24 years in a cramped, windowless chamber and murdering one of their seven children.
The California case led to angry questions about how Garrido had been free to kidnap Dugard, even though he was on parole and subject to tight monitoring by authorities.
Speaking afterwards, El Dorado County District Attorney Vern Pierson criticized California's parole system, under which Garrido was classified as a low to moderate risk offender, despite his previous conviction.
"It was clear to anybody who looked into it that he is an extraordinarily high risk offender" and a "hard core sexual predator (who abducted Dugard) for purposes of being a sexual slave," said Pierson.
Since being freed, Dugard has been living at a secret location with her family including her two daughters by Garrido, now 13 and 16. California has paid Dugard $20 million in compensation for her suffering.
In May publishers Simon and Schuster announced that Dugard is to tell her story in a book,
A Stolen Life
in which they said "she opens up about what she experienced, including how she feels now since she was found."