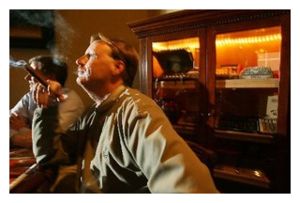 A provision to ban lighting up at cigar and tobacco shops has been snuffed out of a Senate bill targeting exemptions to the state's 1994 workplace smoking ban.
Senate Bill 575,
by Democratic Sen. Mark DeSaulnier, would add sites such as hotel and motel lobbies and banquet rooms, warehouse facilities, employee break rooms and small and owner-operated businesses to the list of smoke-free zones.
The measure originally targeted cigar and tobacco retailers and lounges. But DeSaulnier decided to cut that provision from the bill this week after facing stiff opposition from shop owners and stogie lovers, including an
international trade association based in Georgia
, which argued such a ban would unfairly hurt their business and undermine their ability to serve their customers who come to the sites to smoke.
"The reality is they had influence with members, so bringing it up would have risked the whole bill as it was. I'd rather get what's still a very significant bill that will bring us up to par with other states," the Concord Democrat said.
DeSaulnier said the amended bill still contains "90 to 95 percent of the value" of what he set out to do to protect the health and well-being of employees. He said he wants to continue to work with cigar interests to carve a more narrow exemption to workplace smoking laws that won't allow restaurants or bars that sell tobacco products, including Hookah bars, to circumvent the smoke-free rules.
"It's always tough when people change the rules for a small businessperson that significantly," he said of the opposition's concerns. "But the greater concern is protecting public health."
The amended bill, which is sponsored by the American Cancer Society, the American Heart Association and the American Lung Association, is expected to come up for a vote on the Senate floor today.