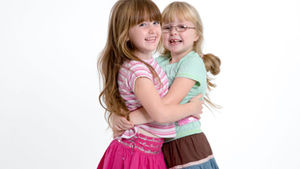 A school has banned pupils from giving each other high-fives, handshakes - and even hugs.
Governors imposed a 'no contact' rule which they say prevents fighting or bullying, reports
The Sun
.
Dayna Chong, 15, was thrown into detention for cuddling a female pal at The Quest Academy, in Croydon, South London.
Her mother, Anita, 33, from New Addington, said the policy was "extreme" and "ludicrous".
She said: "If the kids can't even hug each other at school some of them will never learn how to be socially interactive.
"You need an embrace to comfort you when things go wrong. I've never heard of anything so crazy in my life."
Year Ten pupil Dayna said: "I was just hugging my friend in the morning to say hello and I had to sit on my own and miss out on break because of it."
Sarah Hope's 15-year-old daughter got into trouble for giving a friend a high-five.
She said: "It's a very, very cold policy. I think it's sad that the children are missing out on this sort of closeness."
A Quest Academy spokesman said: "Physical contact between students is not allowed because it is often associated with poor behaviour or bullying and can lead to fighting."