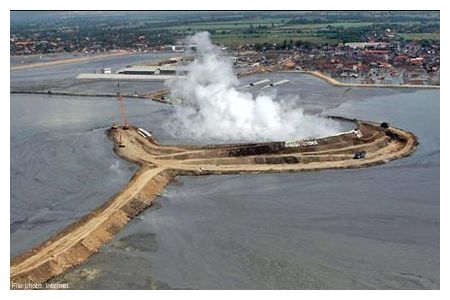 Porong - "Lusi" the mud volcano is slowing down five years after it engulfed fields, homes and factories in a heavily populated part of Indonesia, but experts say the danger may last for decades.
Almost every minute another jet of thick, boiling, foul liquid shoots into the sky followed by a white cloud of vapour, adding to the vast lake of mud which now covers more than 700 hectares (1,730 acres) of Java island's Sidoarjo district.
"My whole life is buried here. I've lost everything: my house and the warung (streetside food stall) I opened just before the disaster," said Harwati, a 35-year-old widow and mother-of-two who now guides tourists around the disaster zone.
"Since then, life has been really hard. It's difficult to find a job."
She is one of some 40,000 people who have been forced out of their homes by the inexorable ooze, which appeared without warning on May 29, 2006 in the middle of a rice field.
Gradually, the mud has swallowed 12 villages, 30 factories, dozens of shops and a busy highway near the country's second largest city of Surabaya. Twelve people have been killed, but many more lives have been wrecked.
As the mud continues to flow, a row over its cause also festers with some experts and victims accusing a local gas drilling company of sparking the torrent - an allegation it denies.
The government's response to the crisis was at first sluggish, before it eventually built 20 kilometres (12 miles) of dykes to contain the mud.
But the measure failed and, as the mud surged over the barriers, they had to be reinforced. They now stand 10 metres (33 feet) tall.
"That should be enough," said Soffian Hadi, who oversees operations in the Office of Disaster Management.
"The eruption has declined significantly in the last few months, from a maximum of 180,000 cubic meters (6.4 million cubic feet) per day to around 10,000 today."
Richard Davies, a geologist at Durham University in the United Kingdom who has studied the volcano, agrees that the "worst is over".
"It seems that the pressure is diminishing. That's positive," he said.
But when will Lusi stop? International experts who met Thursday in Surabaya were cautiously estimating it could keep flowing anywhere from a few years, to up to 80 years.
Without further studies "it will be very difficult to predict with any accuracy the likely future duration and activity of Lusi," said Humanitus, an Australian non-governmental organisation that supports victims of the mud flow.
It said ongoing risks included "bubbles of flammable, odourless and poisonous gases", land subsidence in villages around the levee, and poor air quality from "potentially hazardous gases".
Many of the victims say they still have not been paid all of the compensation they were promised five years ago by the enterprise some experts believe was responsible for the disaster, gas drilling company Lapindo Brantas.
The company is part of the massive business empire controlled by the family of a powerful Golkar political party chief Aburizal Bakrie.
Victims are planning new protests to demand more than the $700 million which Lapindo has agreed to pay, despite its claims that a distant earthquake, not its nearby exploration well, triggered the geyser.
Besides the 13,000 families directly affected and covered by the compensation scheme, many thousands of local residents are demanding payment for economic damage.
"The water from our well is polluted, the air we breathe is bad, the walls of the house are cracked and no one wants to buy the products we grow," complained Sulastri, 34, whose brick shack is only 200 meters from the dyke.
"Most of the neighbours have gone to live elsewhere, but we don't have enough money for that."
Bakrie has found no shortage of geologists willing to back up its claims that an earthquake some 250 kilometres away was the cause of the volcano. But for Davies, the case is closed.
"There is no doubt for me that it's not a natural volcano. We are 99 per cent certain that the drilling is responsible," he said.
"The important question now is: what's going to happen in the next five years. How long it will carry on?"