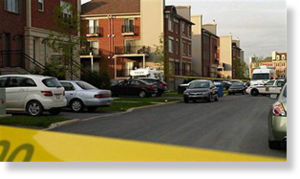 A domestic dispute on Montreal's South Shore may have been at the root of a shooting involving two provincial police officers that left one dead and the other wounded.
The incident happened at about 10:30 p.m. ET Saturday at an apartment on Corbusier Street in the city of Brossard.
Const. Martin Simard with Longueil police said officers were called to the address after someone reported hearing gunshots.
He said when officers arrived they found a man and a woman in the apartment; both had been shot.
One theory being investigated is that the man, 45, shot the woman in the leg before taking his own life.
"The two people involved in the incident were police officers employed by the Sûreté du Québec," said Simard.
"We cannot confirm the nature of their relationship, but we can confirm they knew each other," he said.
The woman, 33, was shot in the leg. Simard said she was taken to hospital but her life is not in danger.
The man, 45, was also transported to hospital where he was declared dead. It's believed he was shot in the head, but Simard would only confirm he had been hit in the "upper body."
"The main hypothesis is that the man turned the gun on himself," said Simard.
It's not clear how the woman ended up shot in the leg but Simard confirms all the bullets were fired from the male officer's gun and that the apartment where the shooting took place belonged to the female officer.
On Monday morning, Quebec provincial police released a statement saying the force was shocked by the shooting and that their thoughts were with the families of both officers involved in the incident.
The force also said counseling and other services would be provided to the surviving officer, work colleagues and the families of both individuals involved in the shooting.