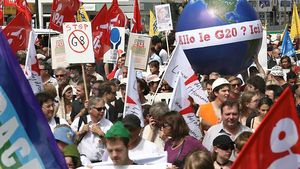 Thousands of anti-globalization activists protested in the French city of Le Havre Saturday against a G8 summit of rich nations to be held in the north coastal region next week.
"G8 get lost, people first, not finance," declared the main banner of the gathering that organizers said drew 7,000 protesters, while local officials said the turnout was about 4,000 at the demonstration which ended without serious incident.
Leaders of the Group of Eight nations - Britain, Canada, France, Germany, Italy, Japan, Russia and the United States - are to meet next Thursday and Friday in the nearby coastal resort of Deauville for a summit expected to be dominated by the Arab world's popular revolts and the aftermath of Japan's nuclear catastrophe.
Saturday's protesters represented some 35 anti-globalization, anti-nuclear, socialist, labor and human rights groups.
Le Havre's commercial district was largely deserted and many shops were closed as protesters of all ages denounced G8 leaders.
Through a megaphone, one speaker said people were "fed up with the eight puppets who close our plants and close our schools."
Leaders of the G8 states have dumped "the old in misery (and) the youth in a mess," the speaker said.
Security forces were discreetly deployed around the city center for Saturday's protest.
March stewards intervened quickly when about a hundred hooded youths threw paint and bricks at office buildings, breaking the windows of some, including a bank.
Protest organizers, who had insisted beforehand that they would not tolerate bad behavior, denounced the action as "a pity, very stupid".
"If we had been able to avoid it that would have been better, but on the whole we are satisfied with the mood of the protest, far from the tensions predicted by authorities," said Pigeon.
French security services have been placed on heightened alert ahead of the G8 meeting, with the authorities concerned about radical fringe groups staging violent protests.
More than
12,000 police and military personnel have been mobilized
around Deauville and marine surveillance units are monitoring access routes to the north coastal town.
On Saturday morning, checkpoints were in place on roads leading to Le Havre
, including the Normandy bridge which was closed to pedestrians and cyclists, according to an AFP correspondent.