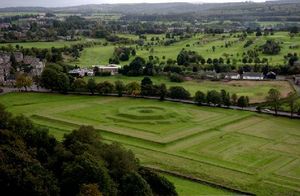 Archaeologists are using the latest scientific techniques this week in an attempt to unravel the mysteries of the King's Knot - one of Scotland's most enigmatic historic sites.
Many stories have been told about this curious geometrical earthen mound just below Stirling Castle - one being that it was the Round Table where King Arthur gathered his knights.
Others have suggested that it might be partly Iron Age or medieval, or was perhaps used as a Roman fort. Then there are those who think it is a natural feature which was modified as recently as the 1620s, when it is known to have been a grand garden feature, highly visible from nearby Stirling Castle.
Origins
Stirling Local History Society and Stirling Field and Archaeological Society have secured funding from Historic Scotland and Stirling City Heritage Trust for a survey project which could shed light on the age and origins of the King's Knot, popularly known locally as "The Cup and Saucer".
The societies have joined forces with experts from Glasgow University's archaeology department who began conducting a geophysical survey of the entire area on Monday, ending on Friday.
Dr Richard Jones, senior lecturer in archaeology at Glasgow University, who is leading the team, said: "This is a fabulous opportunity to discover more about a site which has fascinated people down the centuries, and it's all the more exciting because we really don't know what, if anything, it will reveal.
"The survey equipment we use will sense beneath the ground, showing us any lost structures and features up to a metre below the ground, irrespective of how old they are."
Local history chair John Harrison added: "People have told stories about the King's Knot for hundreds of years and it has become linked with all sorts of ideas but its origins remain mysterious.
"The area was used as a garden in the 16th and 17th centuries but when was the present 'Cup and Saucer' mound formed?
"Perhaps it was as late as the 1620s. But about 1375 the poet John Barbour says that 'the round table' was somewhere to the south of Stirling Castle and tradition continued to place 'the tabilll round' hereabouts. It is a mystery which the documents cannot solve but geophysics may give us new insights.
"Some of our members and other members of the local community will help the specialists to reveal more about the past of this remarkable and important site."
Archaeologist Stephen Digney, who has co-ordinated the project, said: "The area around Stirling Castle holds some of the finest medieval landscapes in Europe.
"This investigation will be the start of a serious effort to explore, explain and interpret them. Is the Knot an ancient feature which Scotland's monarchs re-used, or was it a unique garden design?
"The results should be fascinating for locals and visitors alike, helping to ensure that the landscapes are fully protected for the future."
Historic Scotland, which looks after the King's Knot, made a grant of more than £2000 towards the survey.
Richard Strachan, Historic Scotland's senior archaeologist, said: "High-quality research of this kind is very important to help us discover more about Scotland's past and we are very pleased to be able to support this project.
"The King's Knot is not only a fascinating site, but also a very sensitive one, which means that geophysical survey techniques are ideal as they help reveal any archaeology below the surface, without causing it any damage.
"We very much look forward to the results of this project as it could add a great deal to our understanding of this intriguing part of the royal recreational landscape around Stirling Castle."
Sonya Linskaill, of Stirling City Heritage Trust, which supplied the balance of the funding, said: "We aim to promote wider understanding and enjoyment of Stirling's important historic environment, and encourage local community groups to get involved in their heritage. We are therefore delighted to support this, our first archaeological heritage project."