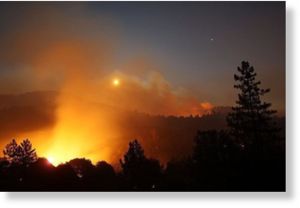 Wildfires whipped by high winds destroyed more than a third of a sizable town in northern Alberta and forced oil companies in Canada's largest energy-producing province to shut off tens of thousands of barrels of output on Monday.
Dozens of forest fires flared up across the province during a dry, gusty weekend, forcing the evacuation of several communities, including Slave Lake, a town of 10,000 people in northern Alberta known as a center for oil, gas and forestry.
Numerous homes and some public buildings had been razed in Slave Lake, Mayor Karina Pillay-Kinnee said.
She spoke to reporters from a command center in the town, about 200 km (125 miles) northwest of the provincial capital, Edmonton. It was deserted save for emergency personnel.
"You feel the intense heat, the sharp smell of smoke ... you see some areas still smoking and our fire-fighting crews are trying to contain any spot fires," Pillay-Kinnee said.
Two blazes, driven by winds gusting to 100 km per hour (60 miles per hour), converged on Slave Lake on Sunday. Complicating the situation on Monday were winds up to 50 km per hour (30 mph) in some regions as well as dry conditions.
"We're expecting another very active fire day," Alberta information officer Rob Harris said. "These conditions make it incredibly difficult for firefighters to contain fires."
Wildfires forced oil companies to shut off production and, in some cases, evacuate workers.
Penn West Petroleum Ltd shut 25,000-30,000 barrels a day of heavy oil production from north-central Alberta operations, Chief Executive Bill Andrew said. All the company's employees are safe, although some have lost homes, he said.
Cenovus Energy Inc said it was ready to halt operations at its 22,000 barrel a day Pelican Lake heavy oil field, 300 km (186 miles) north of Edmonton.
"Our facilities aren't in jeopardy from the fires, but right now the Rainbow Pipeline is shut down," spokeswoman Rhona DelFrari said. Cenovus has enough storage capacity to keep pumping crude until Tuesday, she said.
Fires also burned near the oil sands hub of Fort McMurray, although there were no reports of production being cut.
Market sources said the situation had yet to move prices for Canadian heavy crude, but cautioned that lengthy outages could tighten supplies.
Western Canada Select heavy blend, a widely traded oil grade, was selling for about $17 a barrel under benchmark West Texas Intermediate for June delivery, similar to Friday.
The fires forced the closure of the southern leg of Plains All American Pipeline LP's Rainbow Pipeline from the Nipisi terminal, 80 km (50 miles) northwest of Slave Lake, on Sunday. The northern leg, running to Nipisi from Zama in northwest Alberta, was shut due to a 28,000 bpd oil spill on April 29.
Spill cleanup was suspended on the weekend as the fire threat forced workers to flee the area.
Transport was also affected. Canadian National Railway Co said it shut down train service in the Slave Lake region.
As of Monday, 113 wildfires were burning in Alberta, 34 of them out of control, the provincial government said. A total of 557 square km (215 square miles) had been burned.
The government deployed 1,000 firefighters, 100 helicopters and 20 water bombers to battle the blaze. In addition, 200 more firefighters were expected to arrive from other provinces.