Activist said Assad adviser told him of 'definitive presidential orders' not to shoot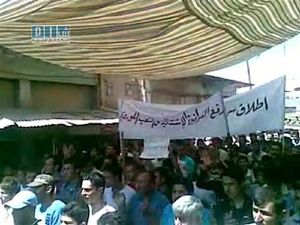 Beirut - Syrian security forces opened fire on thousands of protesters Friday, killing at least one person with a gunshot to the head as soldiers tried to blunt demonstrations by occupying mosques and blocking public squares, activists said.
The death in the central city of Homs marks the latest bloodshed in what has become a weekly rhythm during the two-month uprising, with protesters taking to the streets every Friday, only to be met with bullets, tear gas and batons.
Leading human rights activist Mazen Darwish said Friday's victim was shot in the head. A second activist in Homs put the death toll at two.
"At first they opened fire in the air but the people continued their way, and then they shot directly into the crowd," the second activist said, asking that his name not be used for fear of reprisals from the government.
He said security forces dressed in black and pro-regime gunmen known as "shabiha" were doing the shooting.
Thousands in Syria have persevered with the demonstrations, turning up in huge numbers on Fridays despite one of the most brutal crackdowns since a wave of popular uprisings began sweeping the Arab world. This Friday, three rallies were held in Damascus - the largest number of protests held at one time in the capital.
Security forces fired tear gas in the capital's Zahra neighborhood, forcing scores of people to disperse. In nearby Mazzeh, protesters ran away when security forces arrived. In Muhajereen, security forces used batons to scatter dozens of people, activists said.
In several key areas, residents said Syrian soldiers occupied mosques and blocked off major public areas Friday to prevent people from leaving their homes.
"The army has transformed major mosques in the city into military barracks where soldiers sleep, eat and drink," said a resident in the coastal town of Banias. "They've put up barriers and sandbags around the mosques."
Up to 1,200 security forces have deployed in the public square in the center of town, and soldiers and armed thugs have broken into shops, offices and homes to intimidate people.
"It is tragic in every sense of the word," he said.
There is a media blackout in Syria, making it impossible to confirm witness accounts independently. Witnesses spoke on condition of anonymity out of fear for their personal safety.
Other protests were around the northeastern city of Qamishli, where about 5,000 people marched in the streets chanting "Freedom!" and "Freedom to political prisoners!" said rights activist Mustafa Osso.
Thousands also were demonstrating in the nearby towns of Amouda and Derbasiyeh, he said.
'Definitive presidential orders...not to shoot'
Rights campaigner Louay Hussein said that Assad's adviser Bouthaina Shaaban told him Thursday that "definitive presidential orders have been issued not to shoot demonstrators and whoever violates this bears full responsibility."
Shaaban made a similar statement when protests started in March. Authorities have since blamed most of the violence on "armed terrorist groups" backed by Islamists and foreign agitators.
The Geneva-based International Commission of Jurists said troops have killed 700 people, rounded up thousands and indiscriminately shelled towns during the protests. The government says about 100 troops and police have been killed.
In nearly two months of unrest, protests and bloodshed have spread across southern towns, cities on the Mediterranean coast, Damascus suburbs and the central city of Homs. But the two main cities, Damascus and Aleppo, have remained relatively quiet.
Rights groups have criticized Washington and its European allies for a tepid response to the violence in Syria, in contrast with Libya where they are carrying out a bombing campaign they say will not end until leader Muammar Gaddafi is driven from power.
Advertise | AdChoices
The United States and Europe have imposed economic sanctions on senior Syrian officials but not on Assad himself. Western powers say they could take further steps.
"President Assad faces increasing isolation and we will continue to work with our international partners in the EU and elsewhere on additional steps to hold Syria accountable for its gross human rights abuses," U.S. Secretary of State Hillary Clinton said Thursday.
Russians warn
But Russia's Foreign Minister Sergei Lavrov appeared to warn against any international intervention. Efforts to end the violence in Syria were complicated by "the desire of some participants in these processes to attract external forces to support their actions," Interfax quoted him as saying.
The United Nations human rights office said the death toll may be as high as 850 and urged the government "to exercise restraint, to cease use of force and mass arrests to silence opponents."
Syria's regime wasn't the only nation in the region confronting mounting opposition. Protests continued on Friday in portions of the Arab world:
Yemen: Huge crowds in the capital, Sanaa, and other cities demanded that President Ali Abdullah Saleh leave after months of popular tumult that has brought the Arab world's poorest country close to economic meltdown. But in a defiant speech to thousands of flag-waving supporters, Saleh declared: "We will confront a challenge with a challenge."
Egypt: Thousands took to the streets on Friday to push their military rulers to do more to help Palestinians following the overthrow of the country's president, Hosni Mubarak. The gatherings in Cairo, Alexandria and El-Arish come amidst preparations by activists to organize a march to the Gaza Strip on Sunday, May 15, which Palestinians mark as the anniversary of their 1948 displacement following the establishment of Israel.
Iraq: More than 500 protesters gathered in downtown Baghdad, demanding better government services and more jobs. While other demonstrations across the Middle East have focused on regime change, most of the protests in Iraq have been pushing for improved services, such as reliable electricity and water, an end to corruption and withdrawal of U.S. forces.
The Associated Press and Reuters contributed to this report.