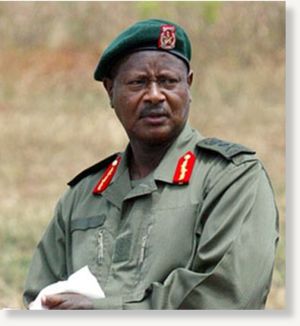 Uganda's U.S.-backed dictator Gen. Yoweri Museveni is walking around naked nowadays and yet his compatriots in the National Resistance Movement (NRM) ruling party don't dare tell him to put on his clothes and negotiate a graceful exit.
Today, barring a miracle, he will be sworn in again for a five-year presidential term.
The smart money says he won't complete this term. Ugandans, previously cowed, have had enough of Gen. Yoweri Museveni's 26-years dictatorship and they've shown that they are willing to risk their lives.
Ordinary Ugandans have taken to the streets in recent weeks, echoing the "peoples" uprisings in North Africa that have swept away long-term U.S. backed despots in Tunisia and Egypt.
Ugandans aren't asking for Western or NATO intervention. They don't want their revolution to be hijacked and contaminated.
Already scores of Ugandans have paid the ultimate cost, with their lives. Shot to death, in the cities of Kampala, Gulu, Masaka and elsewhere by Gen. Museveni's agents. Even two infants were not spared from Museveni's agents who have fired live bullets at unarmed civilians.
Ugandans were mowed down as they walked to work, in protest against sky-high prices of food and fuel.
What outraged Ugandans beyond the tipping point, domestically and overseas, was the outrageously brutal treatment of the country's political opposition leaders, especially Dr. Kizza Besigye, president of the Forum for Democratic Change (FDC).
On February 18, Museveni had stolen the country's presidential elections which many believe Dr. Besigye actually won. Gen. Museveni then deployed thousands of troops throughout the country, in anticipation of an armed uprising that would be encouraged by the opposition leaders, Besigye, Olara Otunnu of the Uganda People's Congress (UPC) and Nobert Mao of the Democratic Party (DP).
Instead the opposition outsmarted the dictator. They called for a civil and peaceful uprising, which coincided with the out-of-control rise in food and fuel prices.
Opposition leaders were repeatedly physically abused or arrested as they led the peaceful walks. The dictatorship, which in Orwellian fashion had previously banned the texting of messages containing the words "Egypt," "Tunisia," and "Mubarak," now banned people from walking to work.
Dr. Besigye, during one such walk, was shot and wounded in the hand. He was arrested at least four times, with the use of brutal force on each occasion.
The final arrest was really what tipped the scales against tyranny and impunity.
Armed thugs working for the state, accompanied by police and soldiers blocked Dr. Besigye's march towards Kampala's city center. He took refuge in his vehicle. The thugs, in view of local and international journalists who photographed and videotaped the abuse, smashed with hammers and a pistol the windows of Dr. Besigye's vehicle, which was stationary.
The Museveni thugs then sprayed into the car, unknown chemical agents, through hand-held canisters at the passengers, including Dr. Besigye. Once he was forced out of the car Dr. Besigye was manhandled by the Museveni thugs and thrown like a dead goat into the back of an open ended van where he slid underneath the seats. Dr. Besigye was temporarily blinded from the assault and traveled to Kenya for treatment--even his passage to Kenya was blocked by the Museveni regime.
It took the intervention of the U.S. and U.K. to secure permission for Dr. Besigye's travel to Kenya--both of these countries have been the primary benefactors of the Ugandan dictator.
From Nairobi, Kenya, Dr. Besigye showed to the entire world why Ugandans want him to replace Gen. Museveni--he called upon his supporters and all Ugandans not to avenge his ill treatment but to retain the moral high ground against Museveni's tyranny. People were not to go after his tormentors, including chief thug Gilbert Aranaitwe, who was captured by reporters' cameras leading the assault and smashing the windows of Dr. Besigye's car.
Today Museveni goes through the motion of being "sworn in" for another presidential term. The diplomats and dignitaries who will attend will be wondering how long he can survive. The general will raise his hand and swear to protect the constitution of Uganda.
Of course, he will be lying, with his hand before a bible since he, more than any single Ugandan, has done the most to destroy the constitution, including gutting presidential terms limits to pave the way for his election theft in February and five years ago.
Gen. Museveni's dictatorship wouldn't have survived without U.S. and U.K. financial and military support.
Yet the national protests inside Uganda show that people want Museveni out and people don't care whether he's backed by the U.S. or U.K. Ugandans have seen how U.S.-backed tyrants were driven away in Tunisia and Egypt.
Ugandans have shown that they are willing to risk their lives.
Yesterday, thousands lined the streets of the road from Entebbe airport to the capital awaiting Dr. Besigye's return from Kenya in a clear and humiliating repudiation of Museveni.
Dr. Besigye was wrongfully ejected from a Kenya Airways flight which was to have flown to Uganda after the Museveni regime reportedly informed the airlines that the plane would not be allowed to land. This was completely illegal and tantamount to hijacking and piracy.
General Museveni is swimming against the tide. Eventually, he and his murderous legacy will be swept away.
"Speaking Truth To Empower."