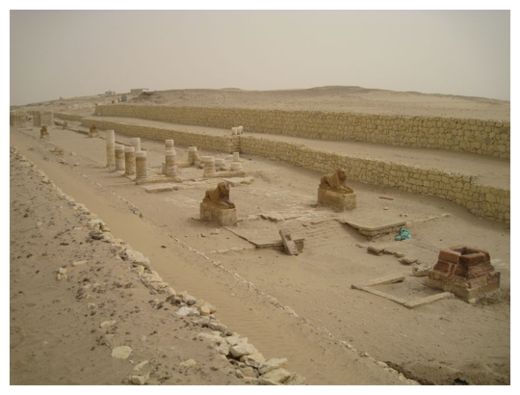 Egyptian authorities put another archaeological site on the country's tourist map yesterday by opening a visitor center at Madinet Madi in the Fayoum region south of Cairo.
Founded during the reigns of Amenemhat III (about 1859-1813 B.C.) and Amenemhat IV (about 1814-1805 B.C.) of the 12th Dynasty, Madinet Madi contains the ruins of the only Middle Kingdom temple in Egypt.
Approached by a paved processional way lined by lions and sphinxes, the temple was dedicated to the cobra-headed goddess Renenutet, and the crocodile-headed god, Sobek of Scedet, patron god of the region.
Now almost forgotten by tourists, the site was swarming with pilgrims in ancient times.
Indeed, 10 Coptic churches dating from the 5th to 7th centuries and the remains of a Ptolemaic temple dedicated to the crocodile god were unearthed in the past decades by renowned Egyptologist Edda Bresciani of Pisa University, who has been excavating the area since 1978.
Discovered more than 10 years ago, the temple featured a unique barrel-vaulted structure which was used for the incubation of crocodile eggs. According to Bresciani, the structure was basically a nursery for sacred crocodiles. Her team found dozens of eggs in different stages of maturation in a hole covered with a layer of sand. In the adjacent room, the archaeologist found a perfectly preserved pool.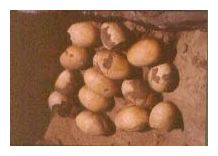 "As they came out from the eggs, the crocodiles were kept in the pool," Bresciani wrote in the excavation report.
According to Bresciani, the crocodiles were bred only to be killed. As they were embalmed, they were sold to pilgrims to the Sobek temple.
Further evidence for the sacred crocodile business came from a nearby building, which contained another pool and other 60 crocodile eggs.
Almost forgotten in modern times, with its monuments appearing and disappearing with the windblown desert sand, Medinet Madi is now at the center of a development project which aims to preserve the site and make it a more tourist-friendly visitor destination.
The plan, funded by a €3,5-million ($5-million) grant from the Ministry of Foreign Affairs in Italy, has "successfully cleared the archaeological site of intrusive sand and restored its monuments," Zahi Hawass, Minister of State for Antiquities Affairs, said in a statement.
"Comprehensive archaeological survey and mapping of the site have also been undertaken, as has the building of a visitor center and eco-lodge as well," Hawass said.