No coffee? No problem. To wake up any morning this week, all you need to do is look out the window. Mars, Jupiter, Venus and Mercury are aligning in the eastern sky for a spectacular dawn conjunction. Mariano Ribas photographed the gathering on May 9th from his home in Buenos Aires, Argentina: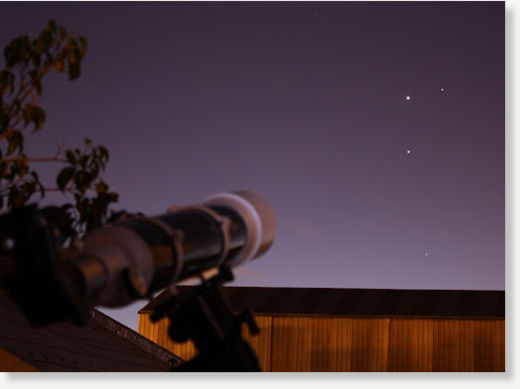 "It was an awesome morning with an unforgettable view: four planets packed in just a 7º piece of sky," says Ribas. "The very compact Venus-Mercury-Jupiter triangle was simply hypnotic. And Mars, below them, was faint but still clearly visible to naked eye. Marvelous planetary gathering, but the best is yet to come."
Indeed, on May 11th, Venus and Jupiter, the two brightest planets in the Solar System, will converge to form a pair less than 1/2 degree apart. Set your alarm for Wednesday morning and begin the day with an eye-opener--no caffeine required.
More images: from
Danny Ratcliffe
of Deception Bay, Queensland, Australia; from
Alan Dyer
near San Pedro de Atacama, Chile; from
M. Raþid Tuðral
of Ankara, Turkiye