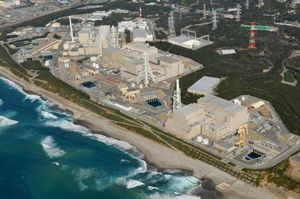 Tokyo - A Japanese power company postponed its decision Saturday on a government request that it halt three reactors at a coastal nuclear plant until safety measures can be improved to guard against future earthquakes and tsunamis.
Shutting down the reactors would likely worsen power shortages expected this summer.
On Friday, Prime Minister Naoto Kan said he had asked Chubu Electric Power Co. to suspend operation of the reactors at the Hamaoka Nuclear Power Station in Shizuoka prefecture until a seawall is built and backup systems are improved. Though not legally binding, the request is a virtual order.
The government is reviewing the safety of the country's 54 atomic reactors since a March 11 earthquake and tsunami crippled the Fukushima Dai-ichi nuclear plant in the north. The disaster left more than 25,000 people dead or missing on the northeast coast.
The Hamaoka plant, which is about 125 miles (200 kilometers) west of Tokyo in an area where a major quake is expected within decades, has been a major concern for years.
Chubu Electric executives failed to reach a decision after discussing the request Saturday afternoon and decided to meet again after the weekend, company official Mikio Inomata said.
At issue is how to make up for the power shortages that would result from the shutdown of the three reactors. Inomata said they account for more than 10 percent of the company's power supply.
Chubu Electric has estimated maximum output of about 30 million kilowatts this summer with the three Hamaoka reactors running, with estimated demand of about 26 million kilowatts.
"It would be tight," Inomata said, adding that officials are discussing the possibility of boosting output from gas, oil and coal-fueled power plants and purchasing power from other utility companies.
Kan said the shutdown request was for the "people's safety."
"If an accident occurs at Hamaoka, it could create serious consequences," he said Friday.
He noted that experts estimate there is a 90 percent chance that a quake with a magnitude of 8.0 or higher will strike the region within 30 years.
Since the March 11 disasters, Chubu Electric has drawn up safety measures that include building a 40-foot-high (12-meter-high) seawall nearly a mile (1.5 kilometers) long over the next two to three years, company officials said. The company also promised to install additional emergency backup generators and other equipment and improve the water tightness of the reactor buildings.
The plant does not have a concrete sea barrier now. Sand hills between the ocean and the plant are about 32 to 50 feet (10 to 15 meters) high, deemed enough to defend against a tsunami around 26 feet (8 meters) high, officials said.
Shizuoka Gov. Heita Kawakatsu called Friday's government request "a wise decision" and vowed to secure alternative sources of energy.
Residents of Shizuoka have long demanded a shutdown of the Hamaoka reactors. About 79,800 people live within a 6-mile (10-kilometer) radius of the plant.
The Hamaoka plant provides power to around 16 million people in central Japan including nearby Aichi, home of Toyota Motor Corp.
Automakers and other industries have had troubles with interrupted supply lines, parts shortages and damage to manufacturing plants because of the March 11 disasters.
The nationwide newspaper Yomiuri welcomed the government request to shut down the reactors despite concerns about a power crunch.
"The idea is to use the lesson we learned (from Fukushima)," the Yomiuri said, urging other utilities to also improve safety. "An accident and subsequent release of radiation could paralyze the entire country."
The Fukushima Dai-ichi plant lost its power and cooling systems in the magnitude-9.0 earthquake and ensuing tsunami, triggering the world's worst nuclear accident since Chernobyl.
Radiation leaks have forced 80,000 people living within a 12-mile (20-kilometer) radius of the plant to leave their homes.
Since the Fukushima crisis unfolded, officials have acknowledged that tsunami safety measures at Japanese nuclear power plants are insufficient.
Tokyo Electric Power Co., operator of the Fukushima plant, has said the tsunami that wrecked critical power and cooling systems there was at least 46 feet (14 meters) high.
___
Associated Press writer Shino Yuasa contributed to this report.