Brutal security forces move in as government refuses to be cowed by warning of international sanctions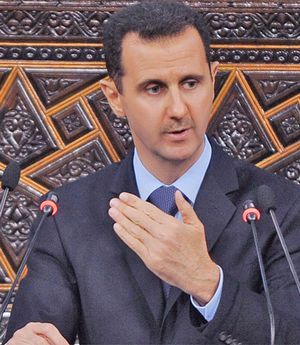 Syria's feared secret police raided hundreds of homes yesterday as authorities stepped up attempts to crush the pro-reform movement amid tentative signs of coordinated action by world leaders against the regime.
Forces were reportedly massing outside the north-western city of Baniyas last night amid fears that the government was planning an assault on a second rebellious city, where two weeks ago soldiers tried to quell protests against President Bashar al-Assad.
Thousands of army troops and tanks stormed the southern city of Deraa on Monday, killing at least 20 people in what appeared to be pre-emptive action against opposition to Assad rather than a response to demonstrations.
People braved sniper fire yesterday to pull the bullet-riddled bodies of the dead from the streets. More than 400 people have died during the uprising against the 11-year rule of Assad.
William Hague said that Britain would work with other countries to push for sanctions on Syria's leadership if violence went on. "Syria is now at a fork in the road... it can choose ever-more violent repression which can only ever bring short-term security for the authorities there," he said.
Syria has already been under US sanctions since 2004 for its support of militant groups. The Obama administration was considering further targeted sanctions against regime figures and blocking exports of spare parts for US-built planes operated by Syria to make clear that "this behaviour is unacceptable".
But the US has conspicuously refused to call for regime change, as it has in the case of Colonel Muammar Gaddafi - even though that is increasingly the specific demand of the protesters risking their lives against the regime's troops and tanks.
As of yesterday, the administration has not even recalled its ambassador to Damascus, Robert Ford, ignoring demands by President Obama's critics who urge tougher action. This caution, according to Mr Obama's spokesmen, is because unlike Libya, the Syrian opposition would be in no position to resist regime forces, even if it had military support from Nato.
Analysts last night also cast doubt on the effectiveness of any sanctions. "By the time they have been put in, it's too late," said Nadim Shehadi of Chatham House.
The assault on Deraa continued as the secret police carried out raids on hundreds of homes around the country. More than 500 people have now been rounded up, according to the Syrian human rights organisation Sawasiah. "The murderers in the Syrian regime must be held accountable," the group said in a statement.
Veteran Syrian human rights activist, Haitham Maleh, who yesterday fled his home because of fears he might be targeted by the secret police, said that the manner of the government's crackdown was "incredible".
He said witnesses had told him that yesterday there had been thousands of state security operatives conducting house-to-house searches in the Damascus suburb of Douma.
"They are breaking down the doors of houses," he said. "They go through the rooms and sometimes there are women who are undressed or not wearing the hijab.The things that are happening are very bad."
In Baniyas, a city in north-west Syria, activists reported government forces were around the city last night and armoured vehicles had taken up positions. "Forces wearing black and carrying AK-47s deployed today in the hills. We are expecting an attack any moment. We will receive them at the gates with our bare chests," resident Anas al-Shagri told Reuters.
Last week Assad announced the lifting of the country's 48-year state of emergency and abolished a widely-loathed secret court. It seems to have done little to quell the unrest.
To see the rest of the article, go to this
link
.