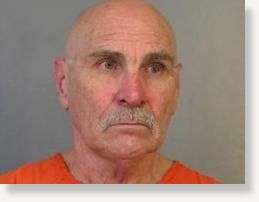 A man suspected of leaving a pipe bomb and two propane tanks at a Denver-area shopping mall has been arrested 30 miles northwest in Boulder, authorities said Tuesday.
Earl Albert Moore, 65, was captured Tuesday at a grocery store, said Boulder Police spokeswoman Kim Kobel.
Authorities have been searching for Moore since the explosives were discovered April 20 at the Southwest Plaza Mall in the south Denver suburbs. The bomb and tanks were found after a fire, but they didn't detonate. No injuries were reported.
The fire occurred on the 12th anniversary of the shootings at Columbine High School, which is about two miles from the mall. Authorities also noted that the times of the mall fire and the Columbine shootings were similar, as was the use of a pipe bomb and propane tanks, which were used during the attack at the school in 1999 that killed 12 students and a teacher.
But on Monday, the FBI said the fire was likely not related to Columbine. Investigators said they found a motive but have not released additional information.
The bomb and tanks were found in a hallway of the mall's food court after firefighters responded to a fire. The explosives prompted an evacuation of the mall. No one was injured.
The FBI on Sunday alerted field offices covering all 50 states and Puerto Rico to be on the lookout for Moore after surveillance revealed a general description of him.
Federal Bureau of Prisons records show that Moore was released from prison April 13 after serving time in a federal prison in Atlanta and Estill, S.C. Federal court record show that Moore pleaded guilty in May 2005 to robbing a bank in Crab Orchard, W.Va., of $2,546.
A judge sentenced Moore to 18 years in prison for the bank robbery, but a federal appeals court in 2006 ruled his stiff sentence was "unreasonable" and Moore's sentence was reduced to seven years. Federal Bureau of Prisons spokesman Edmond Ross said Moore received a "good conduct" release from prison after serving six years of his sentence.
Moore has an extensive criminal record, federal officials said.
Source: The Associated Press