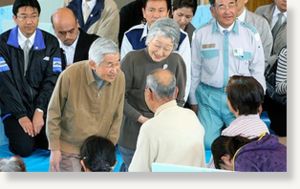 Emperor Akihito and Empress Michiko meet evacuees in Asahi city, where 13 people died in the earthquake and tsunami
Japan's emperor has made his first trip to the disaster zone since last month's earthquake and tsunami.
Emperor Akihito and Empress Michiko visited two evacuation shelters in Asahi city, near the Pacific coast. They knelt on mats and spoke quietly with evacuees, who bowed deeply. Some wiped tears from their eyes.
Thirteen people died in the city and 3,000 homes were damaged or destroyed. The emperor and empress plan additional visits to other tsunami-affected areas in coming weeks.
More than 26,000 people are believed to have died in the disaster. About 11,250 bodies have been recovered so far.
Nearly 140,000 people are still living in shelters after losing their homes or being advised to evacuate because of concerns about radiation leaking from the Fukushima Daiichi nuclear plant.
Officials have insisted the situation at the crippled plant is improving, but a series of mishaps and aftershocks of the 9.0-magnitude quake have impeded work in clearing debris and restoring disabled cooling systems.
The setbacks have angered and frustrated residents. "I'm physically and mentally worn out," said Yoshihisa Kato, a 66-year-old noodle shop owner in Kawamata, about 28 miles north-west of the plant.
"I've been going to funerals almost every day because many elderly people in my neighbourhood have died due to shocks and exhaustion," said Kato, whose business has dried up as residents have fled the area.
Japan this week raised the severity level of the nuclear crisis, putting it on a par with Chernobyl, although the radioactivity emitted is one-tenth of that in the 1986 disaster.
Source: The Associated Press