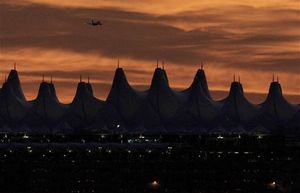 Denver - The rape of a woman at Denver International Airport has left family members raising questions about the late-night attack and officials defending security at the Rocky Mountain hub, which serves millions of travelers each year.
Police spokesman Sonny Jackson said Wednesday that violent crime is rare at the airport, and that he knows of one other alleged sexual assault there, which he said involved an airport worker attacking another employee in an area not accessible to the public.
An airport spokeswoman seconded Jackson's comments, telling
The Denver Post
that "something like this is terrible, but it's also very rare."
"We have many, many layers of security," spokeswoman Jenny Schiavone told the newspaper. "We believe the airport is absolutely safe."
The suspect, Noel Alexander Bertrand, 26, appeared in district court Wednesday after his arrest on suspicion of sexual assault a day earlier, and was being held in lieu of $50,000 bond.
Bertrand, of Portland, Ore., appeared calm at his court appearance but occasionally wrung papers he was holding. He had a beard and wore yellow prison-issued shirt and pants.
The family of the woman who was raped raised questions about whether some employees witnessed the attack about 12:30 a.m. Tuesday in Concourse A without intervening.
Family members said the woman told them three people she believed to be airport employees walked by without helping.
The victim's family members said she had missed a connecting flight Monday evening and had to spend the night at the airport. She said her assailant had struck up a conversation with her in a restaurant, and then followed her out of the eatery, sat down beside her and tried to kiss her, according to a family member.
When she objected, the man threw her to the floor and assaulted her, the relative said.
Jackson, of the Denver police, said two workers pulled a man off a woman shortly before police officers and airport security personnel arrived, and others saw the incident and telephoned for help but didn't intervene.
The family members said the woman was flying from her home in Oregon to a convent in Peoria, Ill., to look into a yearlong service program through the Catholic Church. The woman, who comes from a military family, is participating in a program at a convent and is on a break from studying to be a dental hygienist, according to her family.
The Associated Press does not use the names of people who report being sexually assaulted unless they agree to be identified. The AP isn't identifying the family member to protect the woman's identity.
Jackson described those who called as "good witnesses" and said calling authorities is what police advise for anyone witnessing a crime. He said the two people who intervened were airline employees. He declined to identify the airline.
Airport officials believe airport workers, including employees of outside contractors, "responded appropriately," Schiavone said.
The district attorney's office said a decision on whether to file formal charges would come later this week. Authorities said he didn't yet have an attorney.
No one returned telephone messages left at what were believed to be Bertrand's home in Portland and his family's home in Vancouver, Wash.
KMGH-TV reported that a woman who identified herself as Bertrand's grandmother said Bertrand is a former Marine. One of his previous addresses in public records was a U.S. Marine facility in Japan.