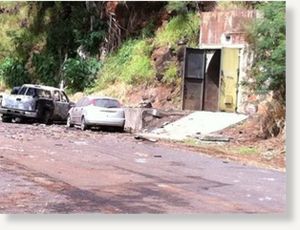 A bomb squad recovered the bodies of two more people Saturday who had been missing after a fireworks storage bunker blast in Hawaii, bringing the death toll to five, officials said.
The blast near the Waikele Business Center at a former military bunker where fireworks were warehoused occurred Friday, killing three people and leaving two the others missing.
The bodies of the two missing men were found Saturday, Honolulu Fire Department Capt. Gary Lum told The Associated Press.
Officials said the bunker burned throughout the day Friday and had been too hot and unstable to enter.
A police robot searched the facility Saturday to see whether explosions had stopped and whether the temperature had dropped low enough for rescuers to risk going in, Lum said.
"It wasn't as hot as yesterday but it was still warm. The bomb team went in ... in protective equipment and they were able to retrieve one victim at a time," he said.
The cause of the blast is still undetermined.
"The investigations hasn't really started yet," Lum said. "They have to make a determination that it's stable enough for people to work in there."
Two people were declared dead outright Friday and a third was rush to Straub Clinic and Hospital where he was declared dead hours later, Hawaii Pacific Health spokeswoman Shawn Nakamoto told the AP. He apparently had been burned.
The Honolulu Department of the Medical Examiner said it did not expect to release victims' names until Monday.
But the
Honolulu Star-Advertiser
reports that sports broadcaster Jim Leahey has identified one of the victims as his brother, 50-year-old Robert Leahey.
The five people and a sixth person who had just minor injuries were employees of Donaldson Enterprises, an environmental services and unexploded ordnance disposal company, said Peter Savio, who handles the leases for the facility. The company couldn't immediately be reached for comment.
The storage facility was authorized by the fire department to hold fireworks.
Source: The Associated Press