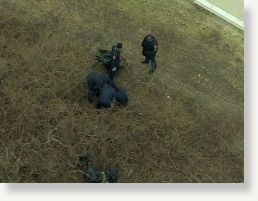 Investigators scouring dense undergrowth for victims of a suspected serial killer along a remote Long Island beach area found three more sets of remains Monday, authorities said, bringing the total number of bodies to eight.
Criminologist Casey Jordan told CBS News'
The Early Show
Tuesday that the killer or killers may have a sexual motivation.
Jordan said the police are likely dealing with a "power control killer" or "hedonistic lust killer," because the women were lured through Craigslist.
The new remains are in addition to the remains of a victim found in the area last week, about 45 miles east of New York City. That victim has not been identified, and police have not positively connected those remains to the bodies of four prostitutes found nearby in December.
Police discovered the bodies while searching for 24-year-old Shannan Gilbert, who went missing in May in the area, and are investigating whether any of the newly-discovered remains are hers.
"The medical examiner is going to be looking at the possibility that Shannan Gilbert is one of the remains," Suffolk County Police Commissioner Richard Dormer said. "We do have forensic and information available to the ME that would either prove it's her or eliminate her."
The search for Gilbert is expected to resume Tuesday. Gilbert, like the other women whose remains have been identified, reportedly advertised as a prostitute on Craigslist.
Authorities have identified the four bodies found in December as Amber Lynn Costello, 27, originally of Wilmington, N.C.; Megan Waterman, 22, of Scarborough, Maine; Maureen Brainard-Barnes, 28, of Norwich, Conn.; and Melissa Barthelemy, 24, of Buffalo, N.Y.
Police suspect a serial killer but so far have no suspects.
According to CBS affiliate WCBS, police searching on foot and from above in helicopters and fire truck buckets found the latest three sets of remains as they scoured tick-infested underbrush and evergreens on the barrier island south of Long Island, Dormer said.
They also used cadaver dogs, police academy cadets, detectives and volunteer firefighters.
Investigators have searched the area, roughly 7.5 miles, several times since December. Dormer said the discovery of the latest remains gives investigators new possible leads into the killings of all the victims.