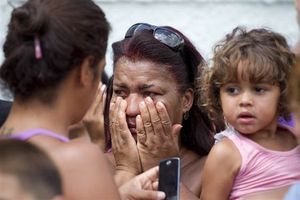 Rio De Janeiro - A gunman opened fire Thursday in a public elementary school in Rio de Janeiro, killing at least 10 people before taking his own life, officials said.
The dead included nine children between the ages of 12 and 14, the O Globo news website in Rio de Janeiro reported.
The gunman, identified as Wellington Menezes de Oliveira, was a 23-year-old former student at the school.
O Globo reported the gunman was shot by police in the leg and then killed himself with a shot to the head.
Officials told O Globo that 18 children were hospitalized after Thursday's shooting.
The man left a letter explaining his actions, O Globo said, including a reference that he had contracted the AIDS virus. Other details were not immediately available.
Initial reports said the gunman had killed at least 12 people but that was later corrected by officials to 10.